AVEENO® Baby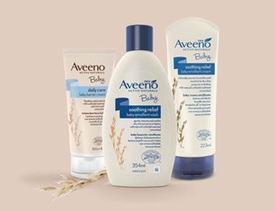 Join this group
AVEENO® understand that a baby's skin is unique and naturally more delicate than adult skin. AVEENO® Baby, specially formulated with natural oatmeal, gently soothes, nourishes and protects a baby's sensitive skin as it develops.
Whether you're a new mom seeking a nourishing bath time routine, or an experienced mom looking to relieve symptoms of dry skin, the AVEENO® Baby Brand has a skin care solution for your baby.
Products include:
AVEENO® Baby Soothing Relief Emollient Cream
AVEENO® Baby Soothing Relief Emollient Wash
AVEENO® Baby Daily Care Barrier Cream
We are looking for 20 mums to trial the NEW AVEENO® Baby range. To be in with a chance of participating, please join the group and leave a comment below to register your interest. In the event that we are oversubscribed, we will make our selection at random from qualifying entries.
Recruitment for this group is now closed.
If you would like early notification of new group trials, please visit this page and join the group where you will get early email notification once new groups are live.