Cook and Play with Bens Beginners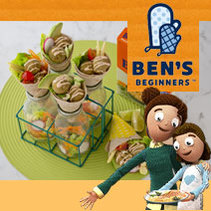 Join this group
New research reveals parents are missing the chance to teach their children lifelong cooking skills.
Most children (59%) don't know what a vegetable peeler is used for yet parents believe their kids have appropriate cooking skills
The Ben's Beginners programme launches 'Cook & Play' – a new, free online course which helps develop kids cooking skills while supporting motor, maths and teamwork learning.
The course aims to provide the core basics to inspire children and parents to get into the kitchen and cook together. The Ben's Beginners course is really interactive, keeping children engaged with fun games to encourage children to become more familiar with fruit and vegetables.
We asked some of our Mummypages Mums to try the online course with their little ones. The feedback was unanimous - they LOVED it! Our mums who tried it found that it not only encouraged their children to try new foods but it also inspired both mum and child to experiment with new recipes and child-friendly food preparation techniques. Mum tested, kid approved status!