EndWarts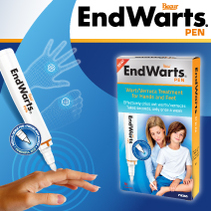 Join this group
Do you or one of your loved ones have warts or verrucas?
EndWarts PEN is an effective topical solution for self-removal of warts and verrucas on hands, feet, elbows and knees. The new EndWarts PEN is a powerful wart and verruca remover. The solution is absorbed directly into the wart, drying it out from the inside and leaving no trace on the skin – perfect for children who seem to find it impossible to sit still! Once the solution gets to work, the body then gently rejects the wart. No Pain, No Scarring, No Infections when used correctly. 1
The active substance in EndWarts PEN, Formic Acid, has been proven to be very effective against warts and verrucas in several clinical studies.2
Zap Warts and Verrucas with the touch of a pen. EndWarts PEN dries out warts and verrucas on hands, feet, elbows and knees.
The new EndWarts PEN retails at €24.95 and is available in all pharmacies nationwide.
We are looking for 20 mums to trial the new EndWarts PEN. To be in with a chance of participating in this trial, please join the group and leave a comment. In the event that we are oversubscribed, we will make our selection at random from qualifying entries.
Recruitment for this group is now closed.
If you would like early notification of new group trials, please visit this page and join the group where you will get early email notification once new groups are live.
EndWarts is a medical device, always read the Information for Use.
References
1. EndWarts PEN Instruction For Use
2. Study with Formic Acid: Bhat et al, International Journal of Dermatology 2001, 40, 15±419. Topical formic acid puncture technique for the treatment of common warts. 2001.