Everline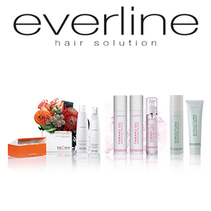 Join this group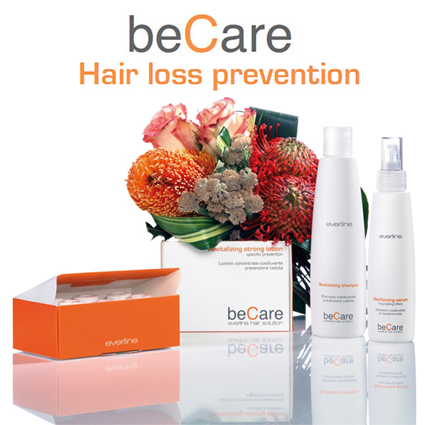 beCare – hair loss prevention
This product range is dedicated to fight against hair loss. Products have a reinforcing action that, thanks to its specific formulation, enhances the cell re-generation process and helps hair growth. beCare Revitalizing and Reinforcing products are designed as a daily maintenance treatment, and may be used during any period of the year. Natural ingredients stimulate the scalp, helping the skin microcirculation and reactivating the tissue metabolism, helps in reinforcing weakened, brittle bones, nails and hair. Products have a strong anti-free radical and protective action, enhanced with a mix of vitamins, amino acids and vegetal extracts to reinforce the hair. For more information,
click here
.
Tamanù – moisturizes and protects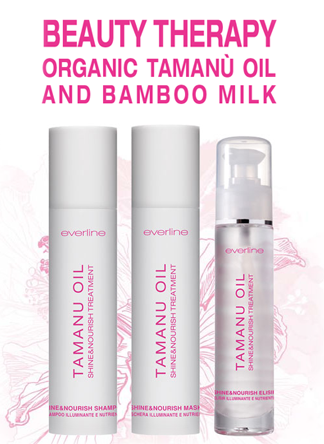 Paradise of uncontaminated nature, Polynesia guards the beauty secrets of Pacific's women passed on ancient Maori traditions. Their deep and crystal clear ocean gifts Polynesian people with precious active principles, kept in secular plants that grow on heavenly atolls. Shine & Nourish products range from Everline will give your hair softness and shine, thanks to the anti-oxidant, re-mineralizing and fortifying properties of Tamanù organic oil. It will nourish, hydrate and protect your hair all in complete lightness. With organic Tamanù oil, anti-oxidant and fortifying for soft and shiny hair, Bamboo milk to protect your hair and Pink Coral powder for colours rich of reflexes. Suitable for dry, curly and wavy hair.
For more information, click here.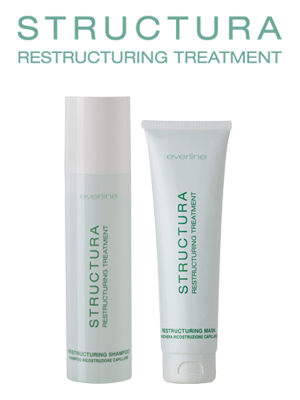 Structura
– intensive treatment
Hair restructuring treatment enriched with Ceramide A2, which restores and improves cell cohesion, giving new strength and protection to the hair. Structura will give brittle, sensitized hair new vitality, strength and extreme shine. It will fill damaged hair areas, hair will become heavier naturally. It's an intense restructuring product for dull, weaken and treated hair's wellness; recommended for weak, coloured, lightened, fibreless and treated hair.
We are looking for 5 mums who would like to try beCare hair loss prevention, 5 mums for Tamanù moisturizing and protect, and 5 mums for Structura intense treatment products range. To be in with a chance of participating, please join the group and leave a comment advising which product you would like to try. In the event that we are oversubscribed, we will make our selection at random from qualifying entries.
Recruitment for this group is now closed.
If you would like early notification of new group trials, please visit this page and join the group where you will get early email notification once new groups are live.