Hedrin Protect & Go®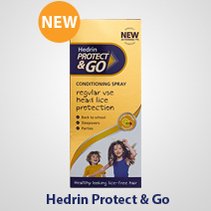 Join this group
Hedrin Protect & Go® is a breakthrough in head lice protection. It's a conditioning spray combining a gentle detangler, fruity fragrance and Activdiol® 1% which has been clinically proven to protect against head lice infestation.
Now parents can protect against head lice
Regular use, long-term head lice protection
From Hedrin - trusted, successful brand.
Highly postitive consumer research and solid clinical trial results.
Simple and pleasant to use
Simple - apply after every hair wash (or at least twice a week)
Gentle - mild detangling formula protects and conditions
Fruity - orange and mango fragrance leaves hair smelling fresh
Fast - simple spray-on, leave-in action
Effective - clinically proven protection for when the threat of head lice appears
Designed for regular long-term use
We are looking for 35 mums who would like to try Hedrin Protect & Go®. To be in with a chance of participating, please join the group and leave a comment. In the event that we are oversubscribed, we will make our selection at random from qualifying entries.
Recruitment for this group is now closed.
If you would like early notification of new group trials, please visit this page and join the group where you will get early email notification once new groups are live.