Kelo-Cote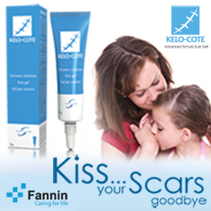 Join this group
Kelo-cote is the only patented, transparent, self-drying 100% silicone gel which improves the appearance of scars and prevents abnormal and excessive scar formation.
A favourite of doctors and patients since 1998, Kelo-cote has been clinically proven to help reduce the redness, hardness, elevation, itch and pain associated with scars. It has also demonstrated efficacy in preventing scars as well. This patented silicone gel is safe and effective for scars resulting from surgery, trauma, wounds, or burns. Kelo-cote helps to reduce scars and restore confidence.
Kelo-cote's patented silicone scar gel dries within minutes forming a flexible, breathable, waterproof sheet over the affected area, providing the optimal healing environment for aesthetic scar outcome. Kelo-cote is completely bio-compatible and is therefore suitable for use on children or people with sensitive skin.
Kelo-cote is available from selected pharmacies nationwide with or without prescription.
We are looking for 30 mums who would like to try Kelo-cote on scars resulting from surgery (C-section, etc.), trauma, wounds, or burns. To be in with a chance of participating, please join the group and leave a comment. In the event that we are oversubscribed, we will make our selection at random from qualifying entries.
Recruitment for this group is now closed.
If you would like early notification of new group trials, please visit this page and join the group where you will get early email notification once new groups are live.