Mum's Say Trial: Glenilen Farm Kids Range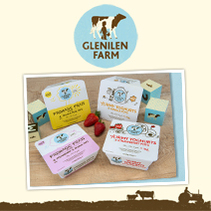 Join this group
What do you get when you mix a belief in simplicity and natural food with a reputation built on quality and taste? You get an exciting new range of delicious Glenilen Farm Yummy Yoghurts for kids and Fromage Frais Style yoghurts for babies 6+ months which are now available in supermarkets across Ireland. Using just three ingredients, Glenilen Farm believes it has created a great tasting product that will put smiles on the faces of kids and parents across Ireland.
Glenilen Farm, the successful family dairy business in West Cork, has become synonymous with quality, simplicity and taste since it started producing chilled desserts, yoghurts, creams and butter on the family farm using their own milk and other natural ingredients. Like all Glenilen Farm products, it all starts with the milk and the new range of Glenilen Farm Yummy Yoghurts and Fromage Frais Style yoghurts are no exception.
Produced with only 3 ingredients – natural live yoghurt, fruit and the minimum amount of sugar – both ranges are made without using any additives or preservatives. Glenilen Farm Yummy Yoghurts are natural authentic farmhouse yoghurts which come in Vanilla or Strawberry flavours (4 x 85g pots), while the new Fromage Frais Style yoghurts come in Peach & Pear or Strawberry & Banana flavours (4 x 60g pots) and are suitable for all ages from weaning onwards.
We are looking for 40 mums to try Glenilen Farm Yummy Yoghurts and Fromage Frais Style for our Mum's Say Trial. If you are interested in taking part simply join this group and leave a comment below. In the case where we are over-subscribed, we will select 40 mums at random.
Recruitment for this group is now closed.
If you would like early notification of new group trials, please visit this page and join the group where you will get email notification once new groups are live.