Mums Say Trial: Huggies® Newborn Wipes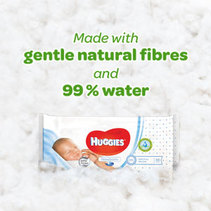 Join this group
Beginnings are very delicate times, especially when it comes to caring for baby's skin. They're so small, so pure, so gently. And of course, you don't want anything harmful to touch their delicate skin.
That's why we're introducing Huggies® Newborn Wipes, our softest, most natural wipe yet, giving care and protection for the most sensitive of skin.
Made with gentle natural fibres, Huggies® Newborn Wipes are softer and thicker than other Huggies® wipes. With 99% pure water and no fragrance, they're completely free from phenoxyethanol, paraben and alcohol, clinically tested as safe from day one!
We are looking for 50 mums to trial Huggies® Newborn Wipes. If you would like to take part in this Mums Say Trial, simply join this group and leave a comment below to note your interest. In the case that we are over-subscribed, we will select 50 mums at random.
Recruitment for this group is now closed.
If you would like early notification of new group trials, please visit this page and join the group where you will get early email notification once new groups are live.