Mum's Say Trial: innocent fruity water for kids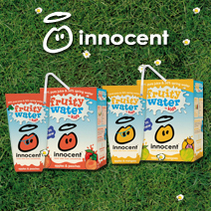 Join this group
innocent fruity water is a refreshing blend of 50% pure fruit juice and 50% spring water made specially for small people.
It's perfect for keeping thirsty kids topped up when they're rushing around (as they do), and just the thing to carry when you're out and about. And because it contains nothing you wouldn't expect, it means you can give them something that not only tastes good but that does them good too.
innocent fruity water comes in two refreshing flavours, apple and peach & apple and mango, and is the perfect refreshment for younger kids.
We are looking for 50 mums who would like to trial new innocent fruity water. To be in with a chance of participating in this trial, please join the group and leave a comment. In the event that we are oversubscribed, we will make our selection at random.
Recruitment for this group is now closed.
If you would like early notification of new group trials, please visit this page and join the group where you will get early email notification once new groups are live.