Mums Say Trial: Peugeot 5008 SUV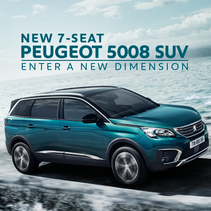 Join this group
Welcome to the new dimension PEUGEOT 5008 SUV. The new PEUGEOT 5008 SUV, with its powerful and sleek design, state-of-the-art technology and sophistication, has been specially designed to enhance your sensory experience and expand your horizons.
INVENTION OF A NEW DIMENSION
Its elegant contours, Black Diamondi roof and grille featuring chrome fins, create a sophisticated and sporty design with generous dimensions.
FREEDOM REINVENTED
Enjoy beautiful, natural light from the panoramic sunroofi in a completely luxurious environment. Relax in the multi-point massage seatsi, customise your interior ambience with Peugeot i-Cockpit®
INTUITION AT YOUR FINGERTIPS
The agile and compact steering wheel in full grain leatheri puts you in control so you can discover an unparalleled level of handling and acoustic comfort.
We are looking for 3 mums to trial new PEUGEOT 5008 SUV. To be in with a chance of participating, please join the group and leave a comment below to register your interest. In the event that we are oversubscribed, we will make our selection at random from qualifying entries.