Mums Say Trial: The Bosch CleverMixx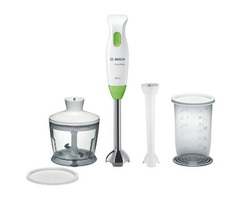 Join this group
We all know that it can be challenging to prepare the perfect meal that the whole family will enjoy, especially when we have a little one who is weaning. Bosch have developed The Bosch CleverMixx to make meal times even easier.
The Bosch CleverMixx has an ergonomic handle that fits perfectly in your hand, and its low weight also makes it simple and comfortable to use.
The newly designed stainless steel mixer , effortlessly purees and mixes, without annoying splashes.
The handy mini chopper attachment, chops herbs, parmesan, nuts and other hard ingredients easy and quick.
We are looking for five mums to try out The Bosch CleverMixx. Each mum will have a week to test and submit their reviews. Each mum can retain The Bosch CleverMixx once the trial is complete.
To be in with a chance of participating, please join the group and leave a comment below. In the event that we are oversubscribed, we will make our selection at random from qualifying entries.