Mum's Say Trial: Vichy Idealia Life Serum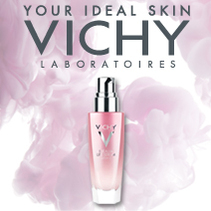 Join this group
We all know what's good and bad for our skin…but what if life gets in the way sometimes?
Stress, pollution, smoke and an unbalanced diet all effect the quality of our skin- and for most of us, it's impossible to avoid all of these skin enemies.
But what if we could give our skin a second chance?
Well, new Idealia Life Serum from Vichy can do just that. It's a serum designed to transform the appearance of skin quality exposed to stress, pollution, smoke and an unbalanced diet- and in only 8 days.
We are looking for 50 Mums, who would like to trial Vichy Idealia Life Serum before it even launches. To be in with a chance of participating in this trial, please join the group and leave a comment. In the event that we are oversubscribed, we will make our selection at random. Vichy Idealia Life Serum launches in participating pharmacies nationwide on 2nd September.
Recruitment for this group is now closed.
If you would like early notification of new group trials, please
visit this page
and join the group where you will get email notification once new groups are live.