NEW MUMS SAY TRIAL: Airmedica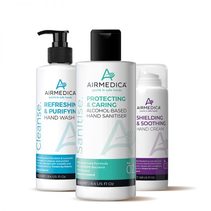 Join this group
Airmedica
is the HSE approved and used, leading Irish brand in personal protective cosmetics. Offering you reliable, safe and nourishing products which will strengthen the body's natural defences, the Airmedica range helps keep you and your family protected every day.
With over 30 years' experience, their expert teams in Mayo and Cork are passionate about using the best ingredients possible to deliver the best products for you and your family. All their products are cruelty-free and vegan and over 80% of ingredients and packaging are Irish.
The Airmedica Total Hand Shield System is as easy as 1, 2, 3 – Cleanse, Sanitise, Protect.
Cleanse - Hand Wash: Refreshing & Purifying Hand Wash. Revitalising Red Mandarin & Lavender hand wash to cleanse and protect your skin. Infused with Centella and Seaweed extracts.
Sanitise - Hand Sanitiser: Protecting & Caring Alcohol based hand sanitiser. HSE approved and used. Kills 99.999% bacteria. 70% Alcohol. This sanitiser is specially formulated to be hard on bacteria, but soft on skin. The ingredients ensure that your hands are left sanitised, safe but not dried out.
Protect - Hand Cream: Shielding & Soothing Hand Cream. Hydrating Red Mandarin & Lavender hand cream that acts as a natural protective barrier for your skin. Infused with Centella and Seaweed extracts.
If you would like to take part in this Mums Say Trial simply
join this group and leave a comment below telling us about you and your family and why you'd like to take part. In the case we are oversubscribed, we will select five mums at random.