NEW MUMS SAY TRIAL: Diggers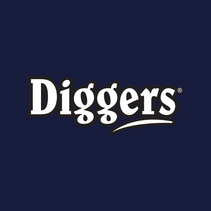 Join this group
Diggers
create deliciously tasty products for the whole family.
The aim is to bring great taste to mealtimes every day with a range of chicken products made from 100% chicken breast fillet, coated in a light, crispy breadcrumb, or batter.
Providing deliciously tender chicken that the whole family can enjoy, Diggers offer an extensive range which ensures that there is something for everyone – from balls, chunks, goujons, wings, shredded chicken and now even burgers in a variety of flavours. The convenient sized packs allow you to easily store in the freezer and pull them out at a moment's notice, particularly after a busy day. They can be air fried, deep fried or cooked in the oven.
Chicken is a fantastic source of protein and an important part of a balanced diet. This makes the Diggers Chicken Range a perfect choice for a protein filled lunch, afternoon snack to boost energy levels or simply to keep the family happy at dinner time.
We're looking for five MummyPages families to test the Diggers Chicken Range and to tell us what you think.
If you would like to take part in this Mums Say Trial simply join this group and leave a comment below telling us about you and your family and why you'd like to take part. In the case we are oversubscribed, we will select five mums at random.
******* ******* ******* ******* ******* *******
This trial is now closed - click
here
to find out what our mums said