New Mum's Say Trial: JOHNSON'S® Baby Unique 3-Step Routine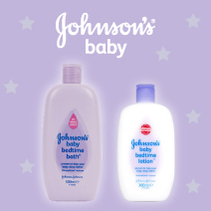 Join this group
The JOHNSON'S® Baby unique 3-step routine is the first and only night-time routine clinically proven to help babies sleep better in just one week.
The 3 easy steps of Bath, Massage and Quiet Time before bedtime can help your baby fall asleep more quickly and stay asleep for longer.
Try it for 7 nights and see what a difference it could make to you and your baby.
Here are the 3 simple steps - enjoyable for both mum and baby.
Step 1 is Bathtime – an enjoyable and relaxing experience for you and your baby. It's the perfect way to start your baby's pre-bedtime routine.
Step 2 is a wonderful way to make your baby feel secure, loved and ready for sleep - a soothing massage.
Step 3: After giving your baby a warm bath and a relaxing massage, it's time to send her off to sleep with a little quiet time together.
Make sure you keep the atmosphere calm and cosy, avoiding active play. You can help your baby wind down further by reading, singing softly or offering a feed.
We are looking for 30 mums who would like to try JOHNSON'S® Baby Unique 3-Step Routine. To be in with a chance of participating in this trial, please join the group and leave a comment. In the event that we are oversubscribed, we will make our selection at random from qualifying entries*.
Recruitment for this group is now closed.
If you would like early notification of new group trials, please visit this page and join the group where you will get early email notification once new groups are live.
*Trial is open to residents of Republic of Ireland, 18+ with baby 7 months +. Full terms and conditions apply, click here.

All mums participating in this trial have been sent free JOHNSON'S
®
Baby Bedtime Bath
®
and JOHNSON'S
®
Baby Bedtime Lotion™ samples. JOHNSON'S
®
Baby Bedtime range is proven to be mild and gentle, and can help baby sleep better as part of a nightly routine.