New Mum's Say Trial: Johnston Mooney & O'Brien Sandwich Thins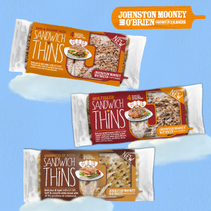 Join this group
We know that many Irish mums are now looking for healthier alternatives to bread, without having to lose out on taste. Johnston Mooney & O'Brien have now launched their new Sandwich Thins, a tasty and nutritious alternative to traditional bread. These freshly baked products are a perfect lunchtime option, packed full of delicious taste whilst containing only 90-110 calories per serving.
The Sandwich Thins come in three tasty varieties: Multiseed, Chia & Sesame, and Goodness of Both.
They can make a perfect mid-morning/mid-afternoon snack and breakfast alternative. The new Sandwich Thins can be eaten on their own (toasted and/or with butter) or filled with your favourite sandwich fillings. They can also make a healthy alternative pizza or bruschetta base.
The new Sandwich Thins are perfect for people who are interested in leading a healthy balanced lifestyle but do not want to compromise on taste. These low-fat alternatives are a great source of fibre, and are tasty and delicious due to the generous seed topping.
We are looking for 20 mums who would like to try the new Johnston Mooney & O'Brien Sandwich Thins. To be in with a chance of participating in this trial, please join the group and leave a comment. In the event that we are oversubscribed, we will make our selection at random from qualifying entries.
Recruitment for this group is now closed.
If you would like early notification of new group trials, please visit this page and join the group where you will get early email notification once new groups are live.