New Mums Say Trial: Lidl Connell Bakery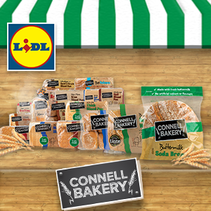 Join this group
There is nothing better than freshly baked bread and cakes, fresh from the oven. However, here at MummyPages, we know that busy mums don't always have the time to bake their own bread, between running around after toddlers and doing the school run.
Thankfully, Lidl have introduced their fantastic range of freshly baked products, Connell Bakery. From traditional batch bread and sweet buttermilk pancakes to their award-winning square wheaten, Lidl's Connell Bakery products are a huge hit.
Their great range, which includes classic sliced pans, high fibre bran loaves, burger buns and potato farls, are all freshly baked and delivered daily to a store near you.
Which means your family can enjoy the delicious taste of freshly baked bread, without the fuss!
We are looking for 10 mums to trial Lidl's Connell Bakery range. If you would like to take part in this Mum's Say trial, simply join this group and leave a comment below. In the case where we are over-subscribed, we will select 10 mums at random.
Recruitment for this group is now closed.
If you would like early notification of new group trials, please visit this page and join the group where you will get early email notification once new groups are live.