NEW MUMS SAY TRIAL: NANNYCARE GOAT BASED FOLLOW ON MILK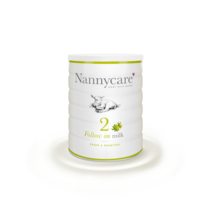 Join this group
Baby's nutritional needs start to increase at 6 months as they begin weaning and transition onto solid foods. Nannycare is designed to complement the weaning diet and is the UK's No. 1 goat milk based follow on milk. As world leaders in goat milk science for 30 years, Nannycare is the supported by clinical trials.
Soft & Gentle Milk
Made from premium goat milk because goat milk curds are naturally softer than those formed by cow's milk1 .
Full cream goat milk
Nannycare Follow on Milk retains the natural milk fat in it's full cream formula and naturally delivering much of the essential fat babies need, removing the need for palm oil. Goat milk naturally contains only A2 beta casein.
Nutritionally Tailored & Fully Regulated
Contains DHA (Omega 3 LCP) to support normal visual development and vitamin D to support the normal function of the immune system.
Natural Oligosaccharides
Goat milk includes Natural Oligosaccharides at 10x the levels present in cow's milk².
We're looking for 5 MummyPages families to trial Nannycare Follow on Milk. If you would like to take part in this Mums Say Trial simply join this group and leave a comment below telling us about you and your family and why you'd like to take part. In the case we are oversubscribed, we will select five mums who will receive 4 x 900g tins of Nannycare Follow on Milk.
Important notice: Breast milk is best for babies and breastfeeding should continue for as long as possible. Nannycare Follow-on Milk is only suitable for babies over 6 months as part of a mixed diet. Talk to a healthcare professional. Goat milk is not suitable for babies diagnosed with cow's milk protein allergy unless under the supervision of a Healthcare Professional.
1 Wang et al 2019; Martin et al 2002; Caroli et al 2009. ²Thum et al 2015; Martinez-Ferez et al. 2006.
Please note, to partake in the trial:
- Babies must be 6-12 months old
- Mums can be formula feeders or combination feeders
- Mums should provide information around any mild feeding issues they are currently experiencing – e.g. colic, reflux, constipation etc.