NEW MUMS SAY TRIAL: SHREDDIES® The Simple One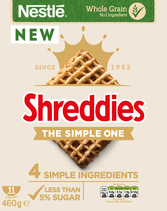 Join this group
We know that mornings are a busy time for families. With everyone trying to get ready for school or work, there is very little time to spare. We want to feed our families something delicious and low in sugar that will keep everyone full until lunchtime.
SHREDDIES® is a cereal that is for people who want to get stuff done and get it done right, they don't have time to waste in the morning.
SHREDDIES® The Simple One
is a wholesome & substantial new SHREDDIES® made from only 4 simple ingredients: wholewheat, dates, banana puree and a pinch of salt. It is naturally sweetened with fruit and contains less than 5g of Sugar.
SHREDDIES® The Simple One
also has the green banner on the pack which indicates that whole grain is the number 1 ingredient, with each serving containing a minimum of 8g of whole grain. Enjoy SHREDDIES® for breakfast and you're Shreddie for Anything.
We're looking for five MummyPages families to test SHREDDIES® The Simple One and to tell us what you think.
If you would like to take part in this Mums Say Trial simply join this group and leave a comment below telling us about you and your family and why you'd like to take part. In the case we are oversubscribed, we will select five mums at random.