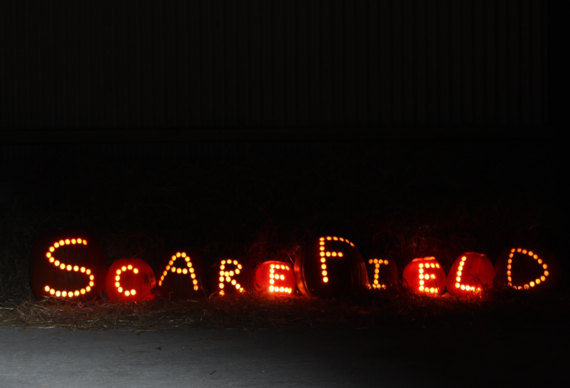 Grab your witch's broom or vampire cape and take part in a feast of frightful activities as Airfield transforms into Scarefield for Halloween.
With a host of haunted happenings and spooky scares taking place all week there's sure to be something for all the family to celebrate this terrifying time of the year.
Kids can release their inner demon with Monster Making Workshops on the Bank Holiday weekend. Specially designed for children, using recycled materials and nature's little treasures gathered from Airfield, they can create spooktacular creatures and menacing monsters.
Scarefield storyteller Eoin will be in the sunken garden where he will share tales of Halloween past to those brave enough to listen. Adults can also join in the fun by taking part in the basketry workshop.
Get into the spirit of Halloween on Tuesday, 28th with a Haunted House Workshop. Create a house perfect for any ghoulish creature to live in and kit it out with trap doors, skeletons hidden in the closets and even a ghost in the attic.
On Wednesday, 29th artist Jane Groves will host a Lantern Making Workshop, perfect for guiding your way as you trick or treat. The following day Jane will be back for a Mask Making Workshop helping to make your very own frightful mask, the perfect addition to any creepy costume. B
ut if macabre masks aren't your thing then Bowsie Workshop will be on hand on Friday 31st for a Special Effects Make-Up Masterclass. Learn some tricks of the trade and create some gory effects.
Things get really spooky on Halloween evening from 5pm and only the brave and fearless dare traverse the foggy threshold to Scarefield's beyond.
Join a woodland walk like no other – experience ghostly encounters, spooky stories, chills and thrills. As night falls on the deep dark forest, ghouls and ghosts will awaken; keep a watchful eye for a headless horseman, scarecrows and dancing ghouls. Further down the woodland path hundreds of pumpkins will twinkle through the darkness. Weave your way through this devilish display and discover a sea of hand-carved creatures.
But it's not all about costumes and ghosts, there'll be plenty of Halloween traditions and games happening as well. Taste Scarefield's very own barmbrack and discover your future fortune – money, luck or love! Try take a bite from apples on strings; he who loses the flour game will have more than egg on his face; and only the strongest stomachs will survive the ghastly smell experience. Whether it's trick or treat, Halloween at Scarefield is sure to be one to remember.
For times and pricing, visit the
Airfield
website.