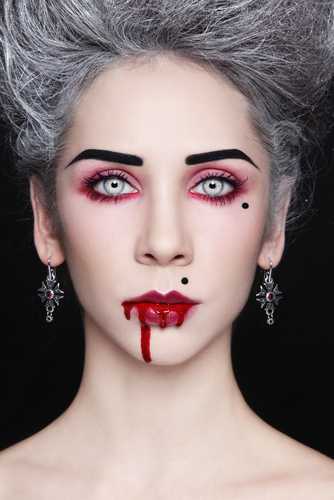 Halloween make-up doesn't have to be about going overboard. In fact, you can create an effective and dramatic look by keeping things simple and subtle.
Whether you are going out to a Halloween party or are simply taking the kids trick-or-treating, this vampire make-up look is so simple and easy to create.
Here's how to do it:
1. Evenly blend your palest foundation onto your face. Set it with a little translucent powder.
2. Darken your eyebrows with a black pencil or black eyeshadow – the darker the better.
3. Blend pink eyeshadow onto your eye lids, flicking it out at the corners. Sweep a little across your lower rims to make your eyes pop.
4. Liberally apply black mascara to your upper and lower lashes.
5. Define your lips with a pink lip pencil and fill them in with a dark pink lipstick. Drip red gloss all over your bottom lip.
6. Finish off by drawing a couple of beauty spots onto your face.