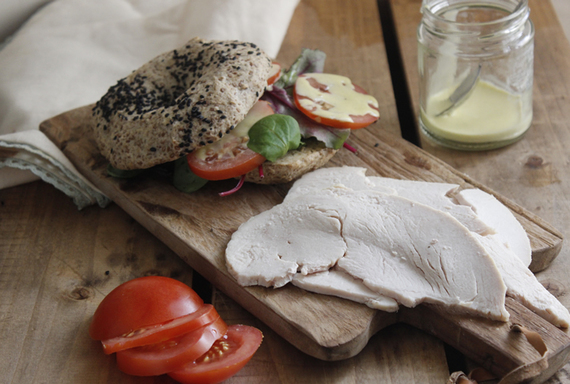 Bread; a grey area of pursuing a healthy lifestyle ….. it seems to be one of the first things people immediately drop when they start 'A-fresh '( every week) I have a fond relationship with it, its one of the foods that has literally been breed into us, because after all we have grown up on toast as a staple breakfast option! I think a vital element to incorporate into a healthy lifestyle is number 1 balance and secondly taking the things you miss the most or that you slip up on and recreating them in a healthier fashion. There are a million of healthy bread recipes out there, all you need to find is one, one that suits you. I particularly love bagels!
Bagels, so easy to tart up and great to pack for lunch….a No brainer! So im going to share with you my seeded bagels perfect for making turkey 'sambos', BLTS or simply smothered in mashed avocado!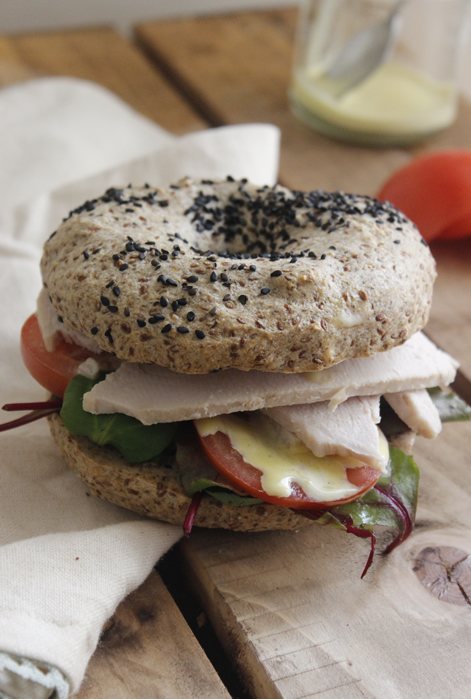 These keep for 6 days in an airtight container, perfect to have prepared for the week ahead or if you want something fast and filling on the move, just make sure your fillings are just as nutritious! Opt for lean protein sources and fresh leafy greens.
INGREDIENTS
makes 8 large bagels
220g ground almond
60g tapiocha flour
1 tbsp baking powder
4 egg white
2 full eggs
350 ml boiling water
4 tbsp flax seeds milled
7 tbso physillium husks – available in health stores, pahrmacies and larger supermarkets (check out the digestive section)
2 tbsp apple cider vinegar
4 tbsp seeds- sesame, pumpkin or sunflower. To garnish
FILLING
Greene Farm fresh turkey slices – a healthy convenient food with no additives. Clever to have in the fridge perfect for adding to salads & omelettes. It tastes freshly cooked so perfect for eating as is, as a snack!

Sliced tomato

Fresh baby spinach

Homemade mayonnaise or relish
In a large mixing bowl combine the almond, tapiocha, baking powder, and physillium.
In a bowl mix the eggs and apple cider, fold into the dry mix and combine using a fork ensuring no lumbs.
Next pour in the chia seeds and stir once more.
Using a fork whisk, while pour in the boiling water and stir for approx. 1 min until completely combined and smooth. Let sit for 3 minutes or so to thicken up.
Using a donut tray spoon in the mix, or if using a non stick baking tray, grease your hands up a little using coconut oil or olive oil and taking sections of the dough make a round ball (it will get messy) place on tray and create a hole in the centre roughly 2 inch thick using your index finger. Repeat this process until all the dough is gone.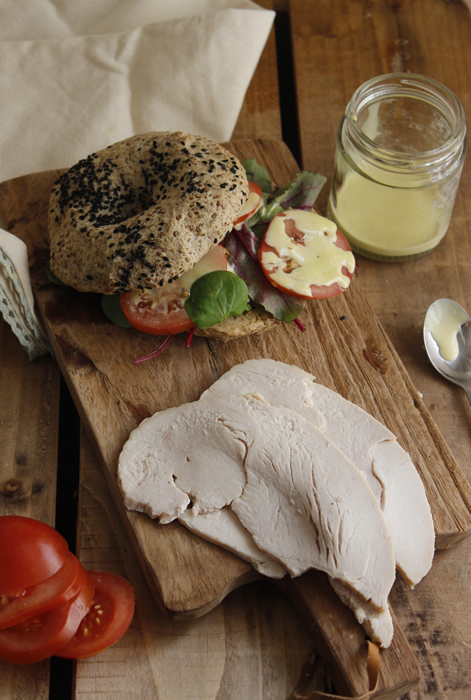 Rozanna Purcell is a model and food blogger, check out her blog
Natural Born Feeder
for more fantastic posts and recipes.