My name is Aoife Clarke and my daughter Alice was diagnosed with leukaemia last July, she was 2 years and 3 months old at the time. Since then she has had an intense schedule of treatment; numerous lumbar punctures under general anaesthetic, a Hickman catheter inserted into her heart valve, blood transfusions, platelet transfusions, antibiotics, fluids and almost daily chemotherapy. Our world has been turned upside down and although the survival rate for leukaemia is high, we are living in constant fear of an infection ending her life. Also, watching your small child endure so much pain and sickness to get to an eventual cure is heart breaking.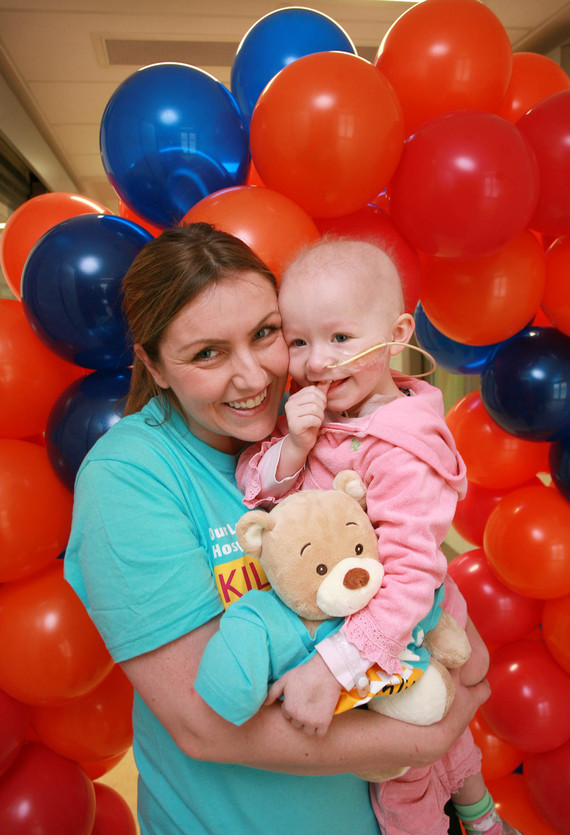 Through it all the staff in St. Johns Ward at Our Lady's Hospital, Crumlin have made our journey as smooth as it can be. Alice actually enjoys coming into the hospital to visit all the nurses, doctors and support staff. They take time to get to know all their little charges; nothing is too much hassle and they will always explain everything they are doing. Everyone is utterly professional and knowledgeable, but more importantly compassionate and caring. We have 8 months of treatment down, but still have over 2 years to go.
From the moment Alice was born, she has been a bright, happy, bundle of energy, who loves life. There are times when she feels absolutely awful (and sadly those times happen more often than not) but in between she picks herself up and puts her little smile on. This is purely down to the wonderful care she receives in Crumlin and I'll be forever grateful to them. I am running the Flora Women's Mini Marathon this year to help the hospital raise vital funds to help Fix Crumlin and I hope everyone out there reading this will consider doing the same. It's a great way for a gang of girls to get together, get fit and raise money for such a worthy cause.
To register for the Flora Women's Mini Marathon click
here
.