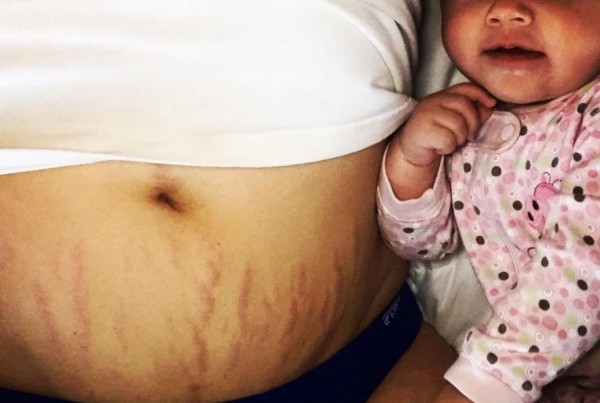 Any mother will tell you that getting used to your postpartum body is not any easy journey. However, an inspirational Instagrammer has learned not only to accept her stretch marks but to celebrate them via social media.
Known as '_healthy_fit_mama' on Instagram, the mum shared a close-up picture of her stretch marks along with her beautiful baby girl. She then delved into the details about why she's finally decided to fully embrace and love her postpartum body.
She only had a couple of small marks for the first eight months of her pregnancy, but noticed more and more markings popping up on her stomach.
"And then BAM! Woke up like this," she wrote, sharing the photo with her followers.
Initially the marks made her feel self-conscious, and she was anxious over whether or not she could wear a bikini again, or if her husband would stop being attracted to her.
Her body insecurities soon became paltry when she remembered the terrifying moment during her pregnancy when she feared for the health of her unborn child.
"I remember the night I woke up and hadn't felt my baby move," she wrote in the post. "I was in a panic . . . I didn't care if my whole body was covered in stretch marks if it meant my baby was OK."
When the mum-to-be was taken to the emergency room, she was overcome with a "wave of relief, joy, and pure bliss" when she heard her baby girl's heartbeat on the monitor, confirming that they were both perfectly healthy.
It was this flashback that made her come to realise the importance of prioritising her baby's health over her own physical appearance.
"My body (was) stretching to accommodate my precious baby, and that was OK. So today as I look down and see those beautiful stretch marks I'm reminded that it doesn't matter. She is OK, and she is healthy because of those marks. She is alive because my body grew to give her life. I love these marks."
This inspiring incident brings to mind another time when social media commenters showed loving solidarity to other new mums.
Only last month, reality star Chanelle Hayes posted pictures of her baby bump and asked for tips on reducing the appearance of stretch marks. Many followers warmly advised her to embrace her stretch marks with pride.