Each and every family have their own unique holiday traditions.
Whether it's apple bobbing together on Halloween, having your own magical Easter egg treasure hunt in the local park or heading to the Wicklow forest with your loved ones to choose your own personal Christmas tree; there are global traditions but also special customs within your personal household.
As a mum, I have experienced generational traditions from my own parents, which were passed down to me, and now I have passed them on to my own little ones.
One of the most exciting aspects of life in my home was Christmas, specifically the magical culture of Santa Claus that permeated the entire house.
The anticipation for St. Nicholas was a year-long build up; we began writing our letters in September, posted them in first class air mail to the North Pole the second it hit November, and were looking into shop windows at presents essentially from Easter.
The magic of Santa was brought to life precisely because we never saw him. A child's imagination is the most potent and powerful force in the entire world, it can create stories out of thin air.
Why do you think young ones enjoy fables, fairytales and myths so much? Children are unlike most grown-ups, because for them, not seeing is still believing.
I do everything in my power to encourage this, because it's a beautiful gift for them to use this power, and I think plenty more adults could do with it. Why should we lose this ability once we become adults?
I have heard of numerous other mums who are less than impressed with the new tradition of seeing Santa more than once a year, but in reality, reminding kids of the magic which the festive season brings can never be a negative thing.
While our little ones have incredible minds for magic, they sometimes need a reminder of tradition.
The practice of bringing our kids to see Santa, more often than not, is because the children never see him on Christmas Eve, only in their dreams.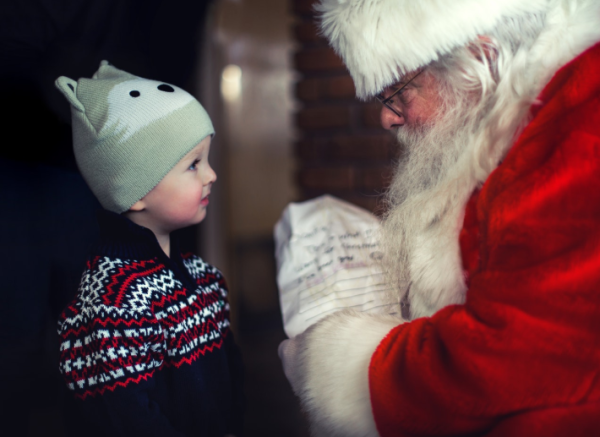 Seeing him in person, even if they are coy enough to cop that the real Santa is yet to come, is a reiteration of their belief.
Meeting his little elves outside his workshop, greeting Mrs. Claus in all her wholesome glory, before finally sitting on Santa's lap and asking him for a special treat for Christmas is an experience that most children never forget.
As a figure of benevolence and kindness, showing our children this example time and time again is a positive light for them to embrace.
I will always hold memories of meeting St. Nick dear to me, they are some of the highlights of my childhood. Why not give our own loved ones the same experience?
It only serves to bring families together to embrace a truly magical moment, which hopefully everyone gets to cherish at least once in their lives.