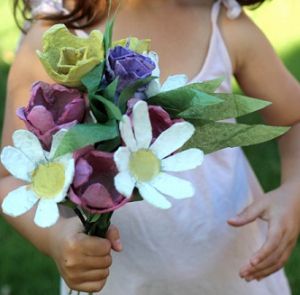 What you'll need:
Egg cartons
Scissors
Pipe cleaners
Paint
Instructions:
Cut out the individual cups from each egg carton. Paint each cup whichever colour (or colours) you'd like and allow to dry. These will be your flowers.
Paint the pipe cleaners green and allow to dry. These will be the flower stems.
Make a very small hole in the top of the egg cup and thread a little bit of a pipe cleaner through this. If your flower won't stay in place, secure with a little bit of tape.
Repeat until you have as many flowers as you want.