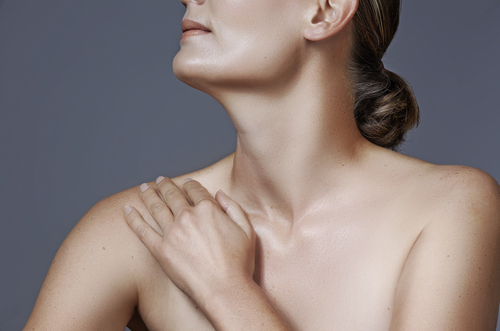 Contouring is all the range these days with the likes of Kim Kardashian and Jennifer Lopez being firm favourites. The beauty trick involves using make-up to enhance your bone structure and highlight your features, and can really change how you look.
It can look a little scary when starting but with a little practice, and a lot of blending, you can pull it off!
You will need:
Darker shade of concealer or cream foundation
Highlighter
Steps:
1. Using your dark concealer or cream foundation, draw a line from the middle of your chest right down to your cleavage.
2. Next, draw a curve over the top of your breast joining it with the line in the centre of your cleavage. Do this on both breasts.
3. To contour your collarbone first you need to find where it is, so push out your shoulders to make the bone pop. Then, with your brush, draw a dark line above and below your collarbone on each side.
4. Using your highlighter draw a line along your actual collarbone and above the contour lines around your breasts.
5. Blend, blend, blend!