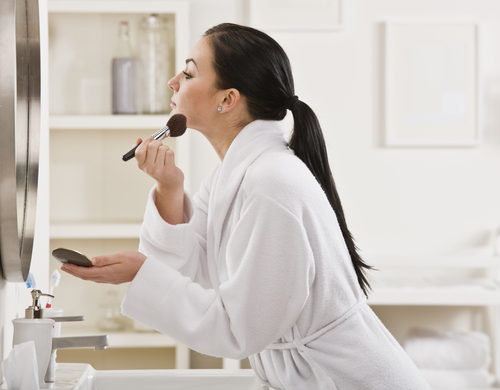 Having kids can often mean we don't get quite as much beauty sleep as we may like.
Disrupted sleep coupled with early mornings, or night feeds and a baby that just won't settle can leave us looking like less than our best.
Thankfully, with a bit of help from our trusted make-up, faking a good night's sleep has never been easier.
Mascara
Open your eyes by applying a light coat of mascara. However, make sure you use it sparingly as too much can get clumpy and your eyes will look heavier.
White eyeliner
White eyeliner can be a little scary but sometimes it is definitely needed. Apply a little on your lower eye rim from left to right to instantly make your eyes appear wider.
Eye cream
If you are expecting on only getting a few hours of sleep tonight, apply a little night cream under your eyes so it can work throughout the night and in the mornings, dab a little eye cream along any dark circles for instant de-puffiness.
Blusher
Lack of sleep can leave you looking pale and withdrawn, so pop on a little blusher to give colour to your cheeks and make you look a little brighter.
Eyebrows
Heavy, untidy eyebrows can make you look tired so make sure your brows are plucked and defined.