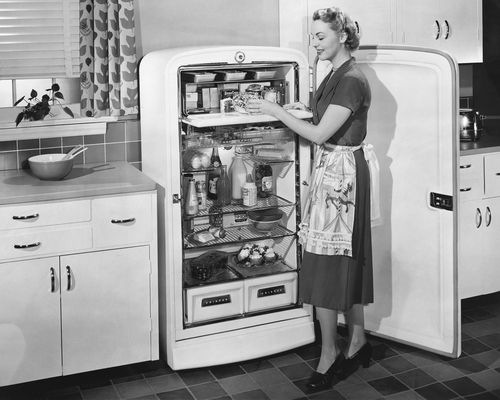 The fridge
The fridge is probably one of the most important pieces of equipment in the kitchen for helping families to get organised.
However some fridges and a lot of freezers are in a state of chaos, which could actually cause food poisoning.
These few simple rules should help you make full and safe use of your fridge.
Store food in the right place and at the right temperature. Ideally 4c.
Keep it simple. Place raw meat or fish on a drip free plate wrapped in cling film.
Store all food wrapped in cling film or in good quality sealed containers to prevent smells and flavours contaminating each other.
Always check the dates of the contents in the fridge. Eat products before the Use By Date.
Fish products need to be used up within 24 hours of the contents going into the fridge.
Be savvy and routinely use food before they have to be thrown out.
Wipe up spills immediately. Empty and wipe fridge every week
The freezer
The freezer can also be a great way to help you become more organised in the kitchen.
The following tips will help you keep your freezer efficient:
Label every container of food that goes into your freezer. Frozen food is sometimes unrecognisable.
Use the 3 Month Rule, rotating and using up food by three months after the date it went into the freezer.
Using frozen foods. Place the container in a fridge to defrost (or use a microwave). Cook thoroughly if required and eat within 48 hours, once it is taken out of the freezer.