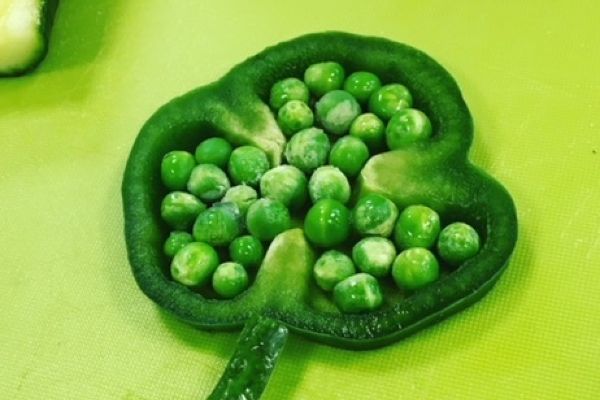 This week is the perfect excuse to up your intake of green veggies as we careen towards our national day of all things Irish/green. The fact that it's almost St. Patrick's Day is melting my head - what happened to February? Did someone hide it? I'm still finding rogue Christmas decorations under pillows and couches.
Leaving all that aside and getting back to the greens. St. Patrick's Day and green foods tie in nicely don't ya think? However, instead of colouring everything you eat between now and then with green food colouring (I've seen the green cakes and biscuits you know!), why not focus on the naturally coloured green stuff?!
There are loads of green veggies and fruit - see how many you can name? (Clue - there's a list at the bottom of this article). If your children jump with joy at the prospect of eating green all week, congratulations and no need to read on. If, however, you are like my kids who would rather clean the toilet than eat a lettuce leaf (true story!), then feel free to continue reading.
So let's make this week all about greens. Let the children know this is what you're doing and why - in celebration of St. Patrick and all things Irish of course (and not because you're desperately trying to get them to eat cucumber!).
Then do just that. Here's some ideas:
eat green veggies and fruit all week
allow the children to pick their favourite green veg out when you're shopping
play the shopping game but make it all about green foods e.g.. I went shopping and I bought grapes, I went shopping and I bought grapes and broccoli etc. etc.
use your greens in different ways - e.g.. make broccoli or kale pesto, throw apple or pear slices into the kids cheese sandwiches, grated courgette in your homemade burgers and avocado in everything (that might be just me!).
do some food art with the green stuff - we made green pepper shamrocks with peas and a cucumber stalk
buy loads of green fruit and veg and have a quiz to see what the kids know
plant some lettuce or cress or other fast growing green food and watch it grow.
I know we were told growing up not to mess with our food, but we were also told that eating apple pips would make an apple tree grow in our tummies. My point being, let your kids play with food - away from the table - to help build their confidence and acceptance of all things green.
Green foods (in no particular order) you can work with: apple, pear, grapes, lime, celery, broccoli, asparagus, mangetout, sugar snap peas, french beans, all lettuces, sprouts, kiwi, avocado, peas, spinach, cucumber, green pepper etc
Happy St. Patrick's Day!