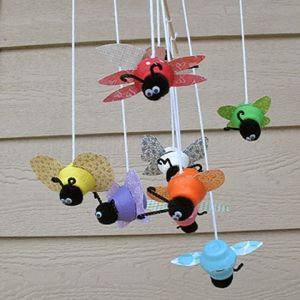 What you'll need:
3 6-cup egg cartons
Paints
Coloured card
White wool
2 small bamboo sticks
9 black pipe cleaners
9 black pom poms
9 sets of googly eyes
PVA glue
Sellotape
Instructions:
Cut out the individual cups from each egg carton – you need at least 18 individual cups.
Paint the cups whichever colour (or colours) you'd like, ensuring that there are even numbers of each colour.
Using the coloured card, cut out 18 circles slightly larger than the diameter of the egg cups.
Take two of the circles, overlap them slightly and tape together to create the wings. Take a piece of wool that's at least a foot in length and tape one end to the centre of the wings. Repeat with all circles.
Pair up your coloured cups with the hollow ends facing each other. Place one of your wings in between the two cups and tape together at the top and underside.
Glue one set of googly eyes to each pop pom. Cut each pipe cleaner in half and glue these to the top of each pom pom to create antennae. Glue to one end of your egg cup ladybirds to create their heads.
Tape the bamboo sticks in a cross and tape two of your ladybirds to each of the four lengths, hanging the last from the centre point.
Hang in your child's room.