A couple of years ago we took Freddie out of school to have a fun trip in America, visiting New York, Naples and Florida. At the time he was only 6 years old, so we spoke to the school who didn't fine us but asked if Freddie could compile a scrapbook while he was there.
I was all up for the idea as it would be a great memory for him, and in fact he made one recently of our time in Jamaica. More importantly Freddie was excited about doing it as well, so a result.
What did we collect on holiday?
On our trip we, of course, took a lot of photos, but we made sure Freddie collected as much as he could while we were there.
Pretty much anything Freddie had over the space of the holiday we collected.
Maps
Boarding Cards
Luggage Label
Badges
Activity Books from restaurants
Entrance Tickets
Subway tickets
Money (of course just loose change!!)
Theatre Tickets
Scorecards (when we played crazy golf!)
Handbooks (Wilderness Explorer handbook from Animal Kingdom)
Epcot Passport
Pictures he had drawn
Getting Started with the Scrapbook
My top tip is to make your scrapbook as soon as you can after your holiday, so it is still very fresh in their memory.
Equipment Needed:
Scrapbook (make sure it is big enough!!)
Scissors
Photo paper
Glue
Sticky Tape
Paper
Pen
Chose the photos you want to include with your child and put them in order. We did it in day order as we travelled quite a lot. We have a printer at home so it was easy, but you can very cheaply get these printed.
Collect all of the things you collected on your trip and put them in the order with the photos.
For every day of your trip ask your child to write a couple of sentences about what they did. I tried not to help too much, which is why some of the words are written phonetically rather than spelt correctly.
But I was super proud of him.
Make sure you lay everything in the pages of the scrapbook before you actually start gluing just to make sure you utilise the book properly.
We put all of the maps at the end of the scrapbook as we had collected so many, maps of the Disney resorts, Universal Studios and New York.
Then the best part, sticking! All we used was either sticky tape or a glue stick so was super easy for Freddie to use.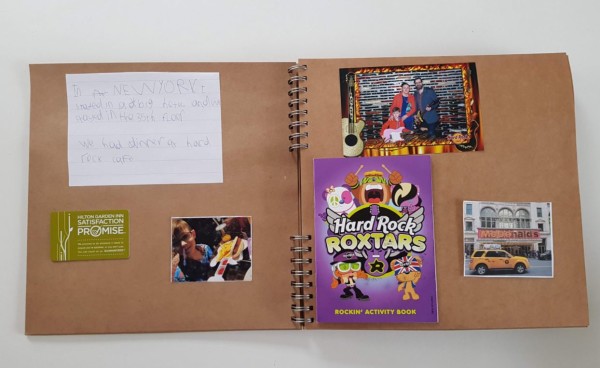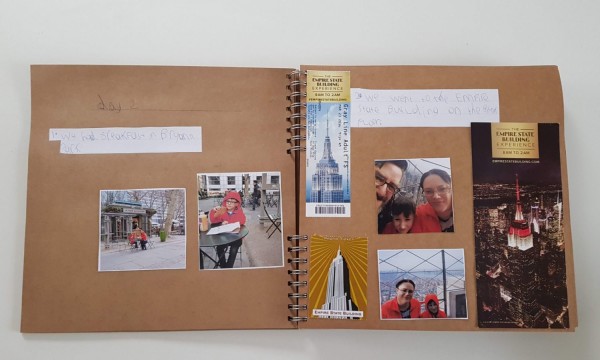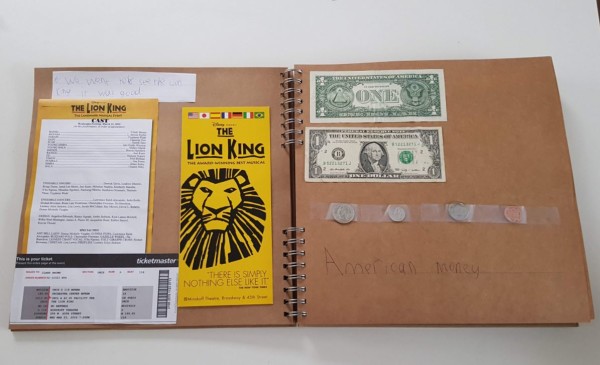 This scrapbook was made 2 years ago, and he is still so proud of it. It regularly comes out and he loves showing family and friends.
Due to him making this scrapbook he now actually remembers the holiday really well as he looks through the scrapbook all the time. I have to say it was probably the best craft / educational thing we have ever done with him.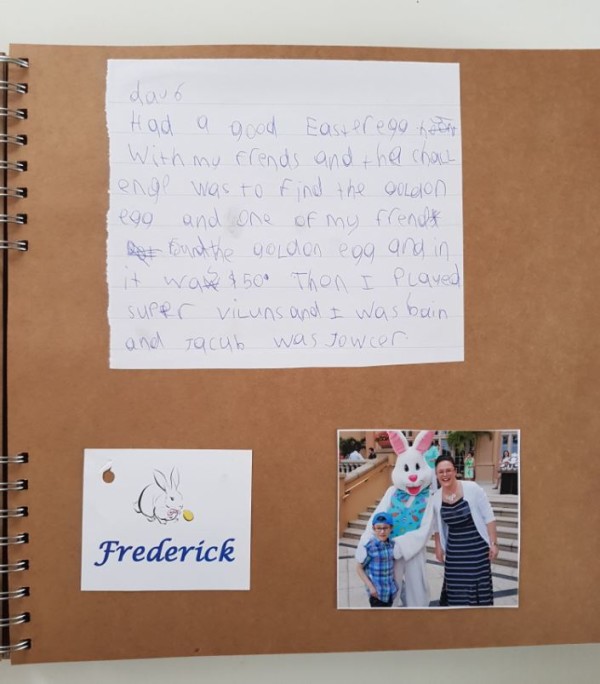 Do you or your children love scrap-booking? If so I would love to hear your top tips.