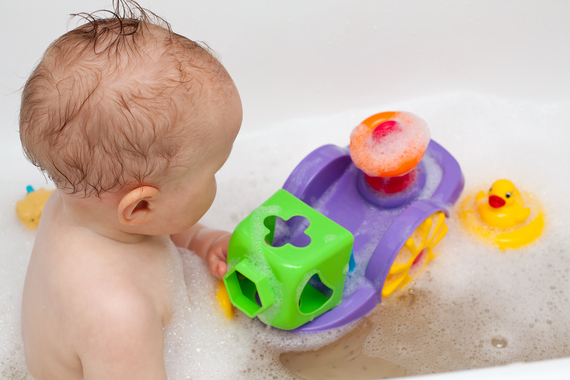 While bathing your baby can sometimes feel like an ordeal for both you and your little one, there are some ways you can reduce the tears and tantrums. If you want to inject some fun into the routine procedure, try some of these helpful tips:
Sing a song
Bath time is a sensory experience for your baby, so why not try singing a song to distract them from what's actually going on? It's great fun and will also help develop their music and language skills. Try tapping the side of the bath to teach them about rhythm - you could have a future drummer on your hands!
Make it a bath for two
Having a bath together encourages bonding through the skin to skin contact, and it also helps your baby to relax in the bath as he or she will feel more secure.
Bring some toys into the equation
The old fashioned rubber ducky or something just as fun can make the bath a much better place to be for your baby. You can also get toys that will help your baby learn such as letters and numbers that stick to the tiles.
Blow some bubbles
Where better to blow a few bubbles than the bath tub? Your baby will love watching the bubbles float up and then pop, and when they get older they can learn to blow them themselves!
Invest in a bath time paint set
Could anything make bath time more fun than drawing a picture? You can buy paints and crayons that easily wash off the tiles. Sp while you lather up the shampoo,your baby can scribble away to their heart's content.