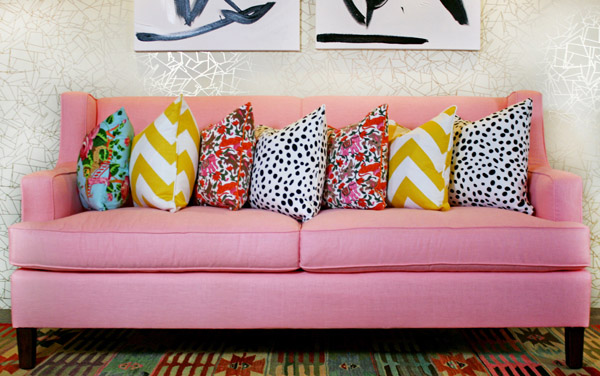 Mixing patterns and combining prints can bring style, character and life to any room.
But get it wrong, and your room can look stylishly chaotic and overwhelming.
When mixing patterns, think about setting small patterns against large ones, limiting your palette, and including one big solid - such as a sofa, floor, or wall.
Here are some other tips to use when mixing patterns in your home.
Start basic
Consider the 60/30/10 approach. Stick to 60 percent of a favourite pattern, 30 percent of a second pattern, and 10 percent of a third as an accent. Try three patterns in a range of scales, such as a narrow stripe, a mid-size geometric, and a bold floral.
Repeat colours in patterns
Repeating colours from pattern to pattern can help even really contrasting patterns seem like first cousins. Accentuate underplayed shared colours in the patterns. If you use one pattern, such as a stripe, repeat it somewhere else in the room, even if the colour and scale change.
Play pattern matcher
A large-scale print can be too big for a pillow or small room, and a complicated pattern might disappear in the folds of drapery. Not sure what to choose? Bring home fabric, wallpaper, rug and curtain samples to test the look. A neutral ground, like the solid background colour on which a pattern is printed, pulls colorful patterns together to create visual interest without taxing a space with too much of a good thing.
Low-cost update
Add pillows as a low-cost way to explore your pattern personality.
Clever coordination
Coordinate patterns by matching less prominent colours.
Go beyond fabrics
Repeat motifs beyond fabrics and soft goods. An X-pattern in a rug can be reinterpreted in an X-base table, or the stripe of wainscoting can make its presence known on a striped pillow.
Play with pattern size
Select the largest pattern first to serve as a jumping-off point for other patterns, colours and accessories.
Image via Pinterest.