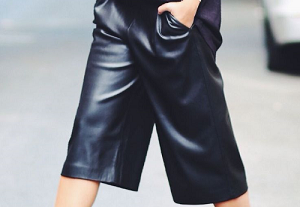 It is undoubtedly the 'it' piece of Spring/Summer '15, and one of the most sleek, chic and sophisticated wardrobe additions this season. However, while the culotte just oozes an easy glamour, it's a trend that has proven a little intimidating. Our simple styling tips will ensure that not only can you get over you fear of the unknown, but you will have a cool culotte look for every occasion.
The style rules for pulling off the culotte look are pretty similar to that of the midi skirt – it's all about balancing structure and creating the waist-cinching silhouette.
1. The crop-knot
The key to pulling off the culotte look is to provide structure at the waist, to balance out the flare at the leg; and one of the most effective ways of achieving this is utilising the crop-knot trick. Taking your favourite blouse or shirt, tie the ends into a knot and secure just above the button or zip of your culottes; this will pull in your waist and flatter the flowing shape of the leg.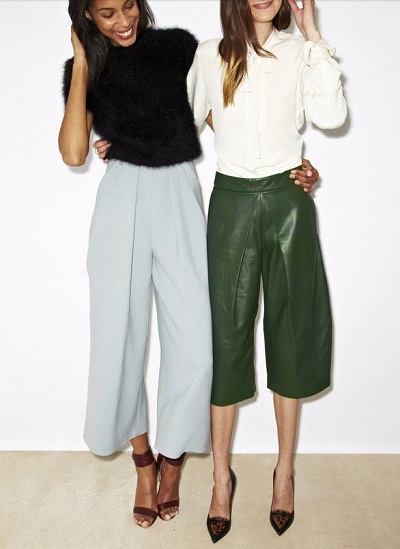 2. The tucked-in look
You don't want to swamp your figure, but using the loose, flowing style of the culotte to create a relaxed silhouette will set this look off perfectly. Tucking in a cami, T-shirt or loose shirt, leaving just a small amount of material peeking over the edge of your culottes will channel an all-over relaxed look.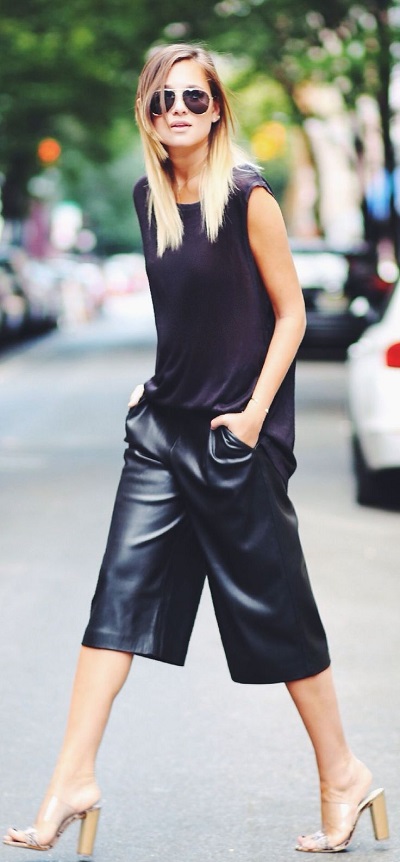 3. Keep it cropped
Once you have your basic outfit sorted, the next hurdle is getting the right jacket to suit your look. The best option here is to stick with the cropped look, either going for a cropped blazer or mid-length leather jacket; this structure will keep the look from looking sloppy, but don't be afraid to experiment with a long trench coat.
Images via Pinterest