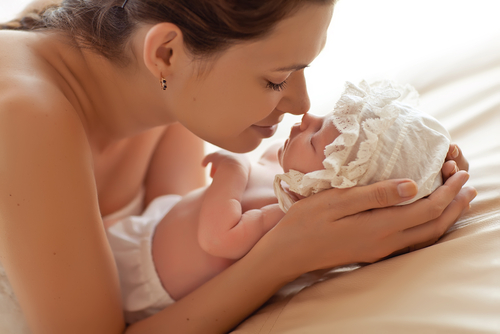 'Precious First Born Syndrome' is a lot more common than you might have thought and you could be suffering from it right now. Thankfully, it only affects you on your first baby, after that the rest of your little ones can run free, eating mud and you won't even bat an eyelid...
But how can you tell if you are suffering from the syndrome? Well, if you answer yes to more than one of these questions, you've got it.
You feel very protective when someone wants to hold your baby
Only you know how to look after your little one. Only you.
You carry around a giant bottle of hand sanitiser
Germs and babies aren't a great combination, we know, but giving someone a bottle of hand sanitiser before going near your infant is a tad OTT.
Your buggy doesn't fit in the door
You have gone out and bought a high-end, expensive buggy that does everything bar change baby's nappy, but it doesn't fit in the door.
Baby only gets organic
We're all for giving babies only the best, but when you go out in search of specially grown organic carrots it might be going a bit far. There's nothing wrong with the ordinary kind.
You've taken your baby to the doctor more times than you can count on one hand
If you are always rushing to the doctor's at the first sign of a sniffle, you definitely have Precious First Born Syndrome.
You record everything. Everything.
You have your own little book where you jot down everything that your baby does. Every. Single. Thing. Not just the first time they smiled or gurgled but every time they smile or gurgle.
You have bought every single baby item available. Almost.
You have spent more than you can afford on baby gadgets that you definitely could have done without.
You walk because they don't like the car
Just because your baby cried the first few times they were in their car seat doesn't mean you have to give up travelling by car altogether.
You spent more than a few days preparing their first birthday
The first birthday is special but if you have spent more than a few days getting it ready or went out and got customised invitations, then you definitely have Precious First Born Syndrome.
Maybe, it's time to reign it all in.