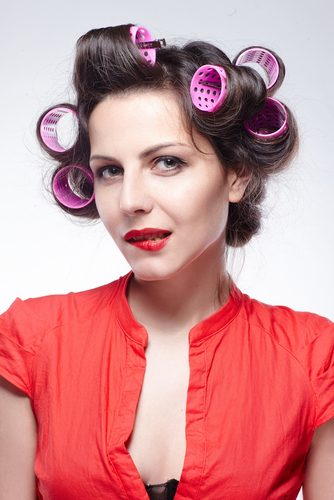 If you are looking for big vintage style curls in your hair, then you need to ditch the iron curler and invest in some old school Velcro rollers. They will help you achieve the much sought-after voluminous hair, are extremely easy to use and you can pick them from most pharmacies and supermarkets.
Follow these 5 steps for perfect curls:
Get the roller right first
Larger rollers will give you more volume and waves, while smaller ones will give you a tight curl.
Spritz some hairspray
Set your hair with hairspray before putting in your rollers. This will help boost volume.
Section your hair
Section your hair about two inches in thickness but no wider than the actual roller. Starting with a Mohawk section makes it easy.
Use the hair dryer
Once in, blast the rollers with your hairdryer on high and leave to cool for about 15 minutes before taking out.
Finish the look
To hold your curls in place, spritz on some hairspray.
There is something quite special about a hairstyle that uses tools your own mum would have used. Hair rollers can take some getting used to, but, you'll be a pro in no time at all, and they won't damage your hair.
It's time to ditch the iron curler and embrace the big vintage style - hair school Velcro rollers are the way forward.