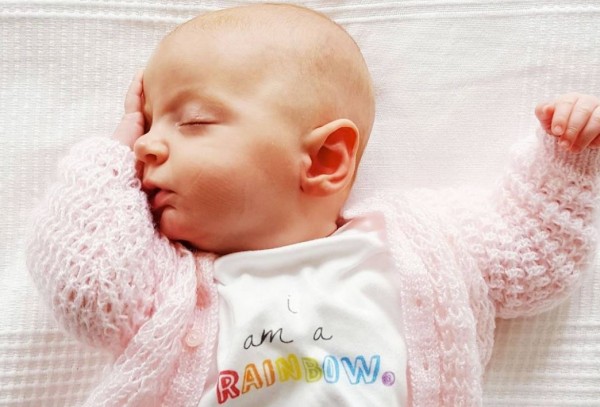 Anyone who has lost a baby will relate to what Clare went through while pregnant with her daughter, Sophie Esme.
After four miscarriages and a late loss, she expected the worst at every stage of her nine-month journey.
Blogging over at Frankie Loves Crochet, sharing a beautiful photo of her rainbow baby, she admitted that she 'didn't think she would get to write the post'.
"We almost lost all hope and came close to giving up, because our hearts and my mental health couldn't take any more losses," she explained.
"In all honesty, it would have been the braver decision to have given up, but thinking about living a life without children was too much for my already fragile mental health."
Understandably, Clare was 'terrified' throughout her pregnancy, as she 'always assumed she'd be losing her at some point'.
"The fear never left me, and even at her birth I didn't think it would actually happen, having previously delivered a sleeping baby," she recalled.
"Not until she was in our arms could I open my heart to believe."
Now, little Sophie is thriving, and Clare can finally begin to embrace life as a mother – to 'their sixth baby'.
"She is worth all the tears we've cried and are still crying, because we still cannot believe she is real," she gushed.
"We will always be grateful for how lucky we are to have her, as we know not everyone gets their rainbow."
Clare's post has really struck a chord online, with many other women affected by loss reaching out to her.
"Oh Clare, how awful that you've been through such a heart-breaking time," wrote one fellow mum.
"I miscarried in my first pregnancy, but thankfully went on to have two normal pregnancies and births….My heart goes out to you both, and so very pleased that you can now hold in your arms your precious little daughter."
"So incredibly brave," wrote another. "Throughout my own infertility journey, I always imagined that the only thing harder would be losing a baby – so, so heart-breaking.
"After four surgeries and multiple IVF treatment cycles, we conceived with a donor egg, and two years after our first miracle baby we have another on the way.
"It makes you so incredibly grateful when a miracle occurs! Your little girl is just beautiful."
What a beautiful story – we're wishing Clare all the happiness in the world with her gorgeous bundle of joy.