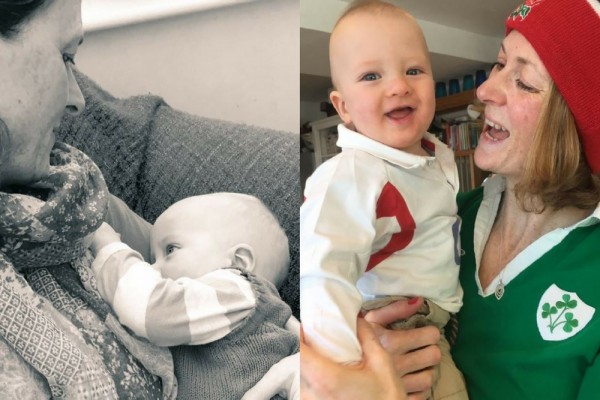 BBC 5 presenter Rachel Burden has admitted that she didn't have an immediate bond with her youngest child.
Rachel, 42, had to have an emergency C-section to deliver her son Henry, due to developing preeclampsia. He was born three months early on February 20, 2016.
The circumstances of the birth made it hard for Rachel to enjoy her son's arrival. "I didn't really feel love for this scrawny creature", she said.
"I only felt relief that he was breathing, and anxiety that he was now out there on his own far earlier than he should have been."
Mum-of-four Rachel, said that Henry had to be taken straight to an incubator which made it harder to develop a motherly bond.
She found not being able to hold and cuddle her son very difficult.
What a difference a year makes. Happy birthday little fella. Thank you amazing NHS. X pic.twitter.com/fvY8oeX0d7

— Rachel Burden (@rachelburden) February 21, 2017
But everything changed when she was finally able to hold her son: "I remember thinking he was really fragile and I wasn't quite sure how to hold him. But it was amazing.
"As soon as I had him on my skin that was the pivotal moment."
Rachel said a C-section should never be looked on as "an easy option" as the surgery was part of the reason she found it hard to bond, according to The Mirror.
Henry is now 14 months old and he and his mum "get on like a house on fire", according to Rachel.
She says she "loves him more than she can bear."
Rachel has been dubbed "The Baby Whisperer" after managing to soothe a crying baby on live TV, earlier this year.
A bit of clarity on C-sections: amazing medical procedure, women who have them are warriors, no league table of labour, we're all amazing.

— Rachel Burden (@rachelburden) April 22, 2017
She was presenting BBC Breakfast alongside co-presenter Charlie Stayt and welcomed a young mum and her five-month-old baby Lily May as guests to the show.
They were there to talk about encouraging women to breastfeed their children for longer.
But when the little girl became agitated and started to cry, it seemed the discussion would have to come to an abrupt end.
Lily-May's mum had problems soothing the little one and it became difficult to hear the interview over the sound of her tears.
But then Rachel stepped in to help Lily-May's mum, she took the tot to one side and began to rock her until she calmed down.
While Lily-May's mum finished her chat with breastfeeding expert Lynne Hall, Rachel managed to soothe the little one.
Viewers were amazed by Rachel's skills and one tweeted: "Excellent baby skills! Well done #bbcbabywhisperer."