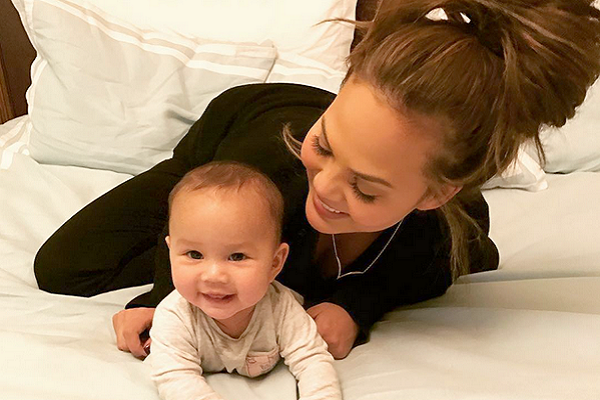 One glance at her Instagram account, and it's clear that Chrissy Teigen absolutely adores being a mum; but it seems there is another story that those carefully curated squares are hiding.
The model, who gave birth to daughter Luna last April, has been suffering with postnatal depression and anxiety – and it's only now that she has gone public with her experience.
Chrissy, 31, has spoken about her ordeal for the first time, as part of her cover interview for the April issue of Glamour magazine.
In the interview, the star – who is married to musician John Legend – revealed that she put her symptoms down to having to live in a hotel while her home was being renovated.
Chrissy was experiencing pain all over her body, and had no appetite: "I would go two days without a bite of food, and you know how big of a deal food is for me. One thing that really got me was just how short I was with people. I couldn't figure out why I was so unhappy."
It was only when the normally outgoing Chrissy found herself unable to leave the house that she knew something serious was up. She would only sleep on the couch, and experienced 'a lot of spontaneous crying'.
Chrissy went to her doctor, accompanied by John, and one by one, the doctor matched up the model's symptoms to those of postnatal depression. The pain, meanwhile, could be traced back to anxiety.
"My eyes welled up, because I was so tired of being in pain. Of sleeping on the couch. Of waking up throughout the night. Of throwing up. Of taking things out on the wrong people. Of not enjoying life. Of not seeing my friends. Of not having the energy to take my baby for a stroll," she explained.
Chrissy was put on a course of antidepressants, and, slowly but surely, she is making a recovery. Accepting what was going on with her body, however, took a while to stick.
"I just didn't think it could happen to me. I have a great life. I have all the help I could need: John, my mother (who lives with us), a nanny. But postpartum does not discriminate. I couldn't control it. And that's part of the reason why it took me so long to speak up: I felt selfish, icky, and weird saying aloud that I'm struggling. Sometimes I still do," she said.
"I've never had more respect for mothers, especially mothers with postpartum depression."
While she still has 'rough days', Chrissy is improving every day.