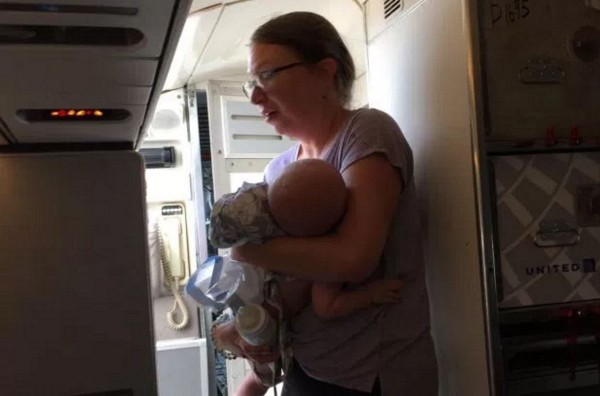 A US mother has condemned United Airlines for their actions, after her infant son overheated during a two-hour flight delay in Denver last week.
According to The Denver Post, Emily France was left shaken after the incident involving her four-month-old son, Owen.
She told the newspaper that the plane was stuck on the tarmac at Denver International Airport on Thursday, for almost two hours. During that time, her son became ill due to high temperatures, and she was forced to call for an ambulance.
Emily claimed that, after making her call for help, it was half an hour before she could make an exit from the United Airlines flight.
The traumatised mum was highly critical as she told the local publication: "They were not equipped to handle it.
"They couldn't evacuate us. It was chaos. I really thought my son was going to die in my arms."
Colorado mom angry at United after infant overheats while airplane sits on tarmac at DIA https://t.co/JrDGjsrV53

— The Denver Post (@denverpost) June 25, 2017
Thankfully, once Emily and Owen were allowed off the plane, the tot received treatment for overheating. He was taken to a nearby hospital, and he is now recovering at home. His mum, however, is calling for change.
Emily now wants airlines to review their policy regarding flight delays, so as to allow passengers off of the plane amid high temperatures.
Emily's story has left parents all over the world shaken, with many throwing their support behind her request. A spokesperson for Denver International Airport, however, remained resolute.
A statement released to the Post read: "A child on-board flight 4644 at Denver International Airport experienced a medical issue while the aircraft was taxiing prior to take-off. The pilot returned to the gate as our crew called for paramedics to meet the aircraft.
"Our thoughts are with the child and family, and we have been in contact to offer travel assistance."
Let's hope that this, and other airlines take note of this incident and act accordingly. Travelling with a young child is difficult at the best of times, without creating situations such as the one Emily has just been forced to endure.
What are your thoughts, mums? Have you ever experienced a similar experience? Be sure to let us know.