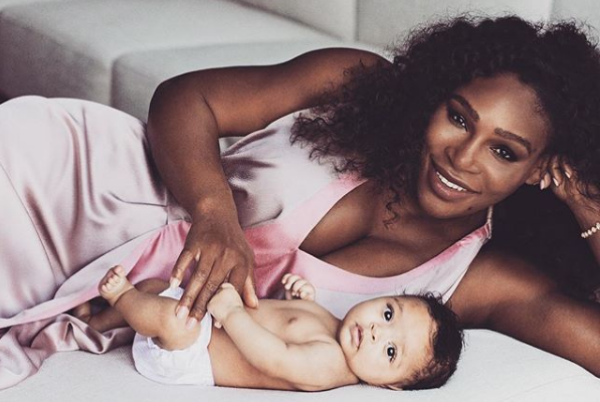 Even the most carefully planned births can become unpredictable in seconds.
Serena Williams has opened up about her distressing journey of having an unplanned C-section with her daughter and the aftermath which left her bed bound.
As one of the strongest female athletes of our time, the tennis star amazed the world by winning the Australian open whilst eight weeks pregnant.
However, the birth of Alexis Olympia, her seven month old beautiful baby girl was anything but straightforward. Williams explains the difficulty of feeling unable to control the situation and the challenges complications brought in her postpartum recovery.
The star spoke to People and explained the moment when the doctors informed her that a C-section was the safest option for delivering her baby, after her heart rate began dropping.
"[It] felt like yesterday the doctor walked in, she looked at me and she said, 'Alright, we're gonna have to give you a c-section,' " the 36-year-old said.
At first, "I was like, 'Alright, cool.' And I didn't flinch. There was a weird sense in me [that] knew that I was going to have to have a C-section, so I wasn't too surprised even though I didn't want it."
As Williams began to reflect on the doctor's advice, the reality began to sink in.
"I was still devastated. I think every woman, a part of them, wants to have birth naturally and [to] feel that … when you get a c-section it's different.
I thought 'Oh my God, I'm going to have this scar," she added.
After processing those emotions, her attention quickly reverted back to the safe delivery of her child.
"Once she was okay, everything for me was okay...Even though everything wasn't okay," said the athlete.
Thankfully her baby arrived safely, but Williams shortly after her birth had trouble breathing. A heavy coughing spell then reopened her C-section wound.
On investigation, doctors found multiple blood clots, one of which was in her lung. The tennis champion was back in surgery and put on blood thinners.
In light of her medical emergency, Williams explained the scary feeling of being unable to control the situation.
"My whole life I've been physically pushing my body to the limits," says Williams. "And this is the one time where I couldn't control anything. I couldn't push my body. My body pushed to its maximum. That was so hard."
The tennis star said she feels lucky to be alive. Williams spent the next six weeks recovering in bed, whilst getting to grips and enjoying motherhood.
"I remember the first day she came and she slept with me, it was just the most amazing feeling ever."
Williams is now back on the court and fighting fit. Her husband Alexis Ohanian, her sister Venus and friends have been her network of support during the difficult time and getting back to play.
"It takes a village to raise a kid and it takes a village to get back on the court," commented Williams.
We think she is truly amazing and who else can relate to her struggle?