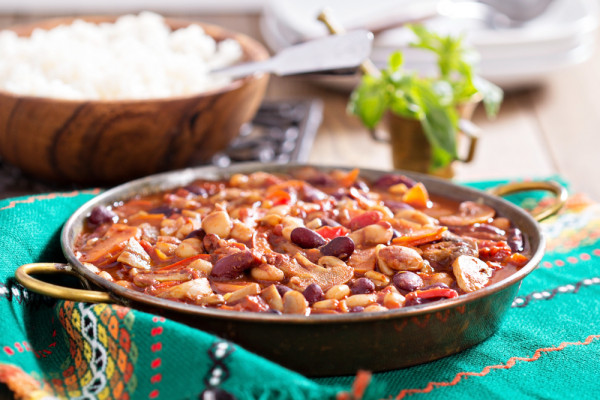 The weather is so cold and unpredictable and we are DYING for the days to get longer. To be honest, all we want to do is curl up in front of the fire and have a nice bowl of comfort food.
But indulging like this shouldn't come with a spoonful of guilt. That's why we have put together this vegetarian chilli which means you get the benefits of chowing down on some nutritious ingredients and the kids will love it too plus they are getting plenty of fibre.
Warning: One bowl is NEVER enough!
What you need:
500g sweet potatoes, cubed
1 tsp cayenne pepper
1 tsp cumin
1 tsp cinnamon
Olive oil
Salt and ground black pepper
1 onion
1 red pepper
1 yellow pepper
Bunch of coriander
1 red chilli (go easy if you have little ones)
1 green chilli (maybe leave this out if you have smallies)
2 cloves garlic
2 x 400g tins of beans (kidney, chickpea, pinto, butter or cannellini)
2 x 400g chopped tinned tomatoes
What you do:
Preheat the oven to 200°C/ 400°C/gas 6
Peel and chop the sweet potatoes into cubes. Dust with a pinch of cayenne pepper, cinnamon and cumin, salt and pepper and a dash of olive oil and transfer to a baking tray. Chop the onion and peppers roughly. Deseed and finely chop the chilies and chop the garlic cloves finely also.
Transfer the sweet potato to the oven for 40 minutes. Put a casserole pot on a medium-high heat and add olive oil. Toss in the onion, peppers and garlic and cook for approx 10 minutes. Add the coriander, chili and mixed spices and allow to cook for another five minutes, stirring occasionally.
Add the drained tins of beans and tomatoes and bring to the boil while stirring. Reduce the heat and allow to simmer for 25 to 30 minutes.
Take the sweet potato out of the oven and combine with the chili. Season with salt and pepper and garnish with coriander. Serve with rice, tortillas, guacamole and sour cream.
Enjoy!