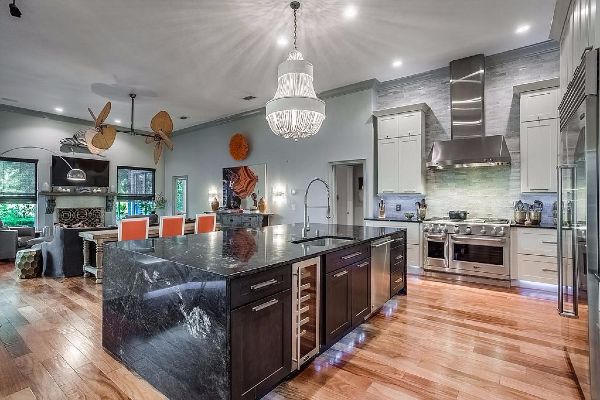 Nothing gives us a DIY itch quite like a change in season.
As the weather gets cooler, and the evenings get shorter, all we want is comfort food and cosiness!
Are you in a similar boat, and looking to revamp a room in your home?
WELL, we decided to start with kitchens - the heart and soul of most Irish homes.
Check out these AH-MAZING kitchens that we found on Pinterest, and get ready for some serious inspiration.
1. Marble magic.
There is nothing more chic than a marble counter top. We can't get enough of it!
2. Rose gold furnishings.
Rose gold is the colour of the moment right now, and time to play the lottery!
3. Plants make everything better.
Nothing gives a kitchen a face lift quite like some greenery!
4. Minty fresh.
Honestly, if we could have our ENTIRE home in this colour, we'd be delighted.
5. Pink, always.
When I was a child, all I ever wanted was a big pink house. Time to make our childhood dreams come true!
6. Black magic.
Dare to be different with a dark, warm kitchen! It is perfect for those blustery nights in.
7. Add a splash of red!
This looks like it fell out of Town & Country magazine, and we're obsessed with those beams.
8. Hidden gems.
Listen, we're not ashamed to admit it, but good storage really gets us excited. Good appliances actually add massive style to most kitchens. Display with pride, mums!
9. Exposed brick.
Embrace that wonderful rustic feel with a bit of exposed brick.
10. This is our favourite one.
The most important part of any kitchen? That is can be a place for the whole family. Sunday morning juicing with the kids? No problem. Just make sure you have the right blender!