Unlock the natural beauty of sheep's milk and lanolin with Bánór, a unique and effective body care brand from sheep milk farmers. Founded by Pharmacist Nicola Lyons and Agriculture and Dairy Specialist Elaine Crosse, combining over 20 years of pharmacy, farming and friendship, Bánór was born.
With an inherent passion for nature and land, Bánór has launched its first body range with four core products. The sheep milk is sourced from Elaine's brothers and farmers, Michael and Brendan, on their family-run farm in Cashel in the heart of the Golden Vale. The sheep milk and lanolin are combined with revitalising ingredients to nourish, protect and hydrate the skin.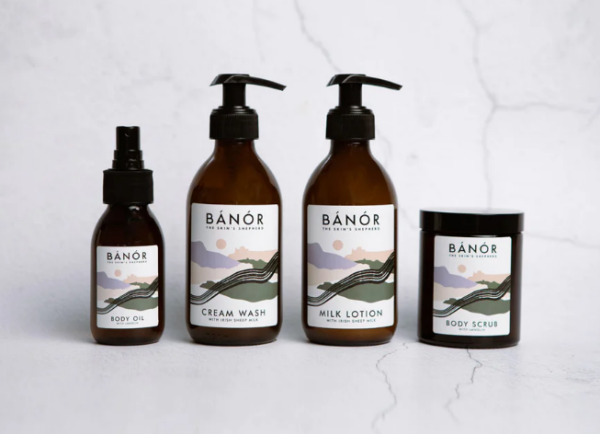 About sheep milk and lanolin
The skin is the largest organ of the body, and one of its main functions is to protect us from the outside world. Sheep milk has many properties that help the skin in acting as the body's protective barrier.
It's naturally high-fat content nourishes the skin
It is a readymade source of vitamins (such as retinol, ascorbic acid and vitamin c) and minerals (magnesium and calcium) that all preserve and improve the skin's appearance.
It is more abundant in proteins with a stronger amino acid profile than cow's or goat's milk.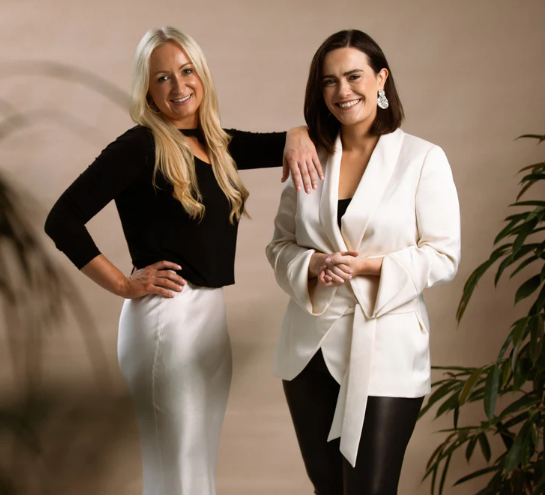 Lanolin is a natural oil from sheep's wool that locks moisture into the skin. The purpose of lanolin is to condition and protect sheep's wool. This conditioning property is why it is widely used in cosmetics, skincare and hair products. Many lip balms and nipple creams contain it.
Bánór's unique formulation fuses sheep milk and lanolin with gentle ingredients to suit all skin types. It is naturally scented with Lavender, Geranium and Ylang Ylang to deliver its premier body care range including a luxury hand and body milk lotion and cream wash, in addition to a body butter scrub and oil.
Our favourite products from the collection include:
Body Wool Oil, €30
Hand & Body Milk Collection, €70
Contains Hand & Body Cream Wash (250ml) and Milk Lotion (250ml)
The Wool Collection, €68
Contains Body Butter Scrub (180g) and Body Wool Oil (100ml)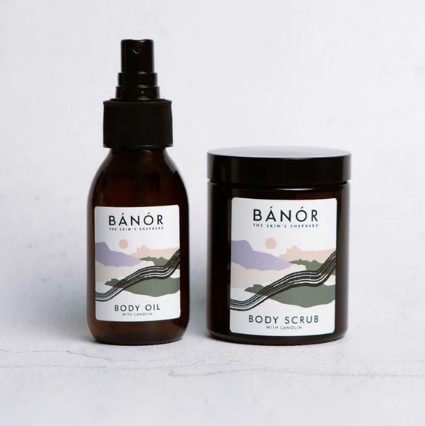 Co-Founder and Dairy Specialist Elaine Crosse expresses "Milk has been used as a beauty and medicinal treatment for thousands of years, we now have an opportunity to educate people on the powerful benefits of sheep milk for the skin. Sheep are special animals steeped in heritage. They are synonymous with Ireland, and have helped sustain wool, meat, and farming families for hundreds of years. However, we have yet to fully appreciate how beneficial their milk is. Sheep milk is one of the most nutritious milks available in the world today. You may be familiar with its use in cheeses such as feta and Roquefort. Our milk is also used in the renowned Cashel Blue Cheese. Sheep milk has a high concentration of proteins, fats, minerals and vitamins, and is truly a unique ingredient, not widely available. Our milk is single origin from our family-run farm in Tipperary. We take pride in what we do from the farm to producing the product – that means working to ensure we don't create new problems for the planet. We want to connect people back to the land and support a new wave of Irish farming."
Co-Founder and Pharmacist Nicola Lyons adds "Milk is a gentle cleanser, moisturiser, exfoliator, and has even been known to soothe sunburn. Lanolin, an extract from sheep's wool, has also long been recognised for its positive impact on the skin. From working in pharmaceutical environments, studying and understanding a broad spectrum of dermatology concerns over the last decade, I am proud to be producing a powerful yet gentle collection of products that are suitable for all skin types including sensitive skin."
The full collection is available to experience and enjoy from www.banor.ie.