When it comes to caring for sensitive skin, finding the right laundry products can be a real challenge. Parents often find themselves torn between achieving huggable softness and ensuring a fresh, clean scent without causing any irritation. Luckily, Fairy Non Bio has come up with the ultimate solution: the Fairy Dream Team.
The Fairy Dream Team consists of three exceptional products: Fairy Non Bio PODS®, Fairy Outdoorable, and Fairy In-Wash Scent Booster. Together, they offer a winning combination that provides unparalleled softness and a delightful boost of freshness, all while being kind and gentle to delicate skin.
Let's start with Fairy Non Bio PODS®. These innovative laundry pods are designed to deliver a gentle yet powerful clean for your family's clothes. With their unique formula, they effectively remove dirt and stains without compromising on the sensitivity of your skin. Fairy Non Bio PODS® offer the huggable softness you desire, ensuring that clothes are comfortable and gentle against delicate skin.
Next up is Fairy Outdoorable. This fabric conditioner is specially formulated to give the freshness of drying outside, even when drying inside. It eliminates musty odours, leaving your clothes as fresh as if they've been dried outside, and snuggly soft next to sensitive skin.
Last but not least, we have Fairy In-Wash Scent Booster. This magical product is designed to provide an extra boost of freshness to your laundry. The unique scent-boosting beads dissolve during the wash cycle, infusing your clothes with a mild, long-lasting freshness. It's gentle enough for sensitive skin, so you can enjoy the freshness without any worries.
By combining Fairy Non Bio PODS®, Fairy Outdoorable, and Fairy In-Wash Scent Booster, you create the Fairy Dream Team. This powerful trio not only delivers the softness your family deserves but also adds a refreshing touch to your laundry routine. With the Fairy Dream Team, you no longer have to compromise between softness and freshness.
BROUGHT TO YOU BY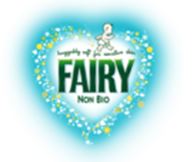 Voted number 1 laundry brand for Sensitive Skin* - the sensitive skin dream team is hypoallergenic and dermatologically tested, wrapping your family's delicate skin in huggable softness. Enjoy freshness as if you've dried your clothes outside, even when you dry inside!
(*Online panel of 3327 females aged 18-70)