Ireland's No.1 Santa, The Santa Experience, in association with Dunnes Stores returns to Kilnamanagh, Dublin, Limerick and Cork for Christmas 2019.
Now in its 10th year The Santa Experience will see 20,000 children this Christmas making magical moments for families across the nation.
Take a tour of the North Pole visiting 5 fun filled festive rooms including:
The Elves Post office
Santa's stable
The Sleigh Station
The North Pole
Santa's House
Children will learn how Santa and the elves prepare for Christmas and will interact with elves, reindeer, polar bears and maybe even get to ride in Santa's Sleigh on your way to meet the big man himself in his authentic log cabin!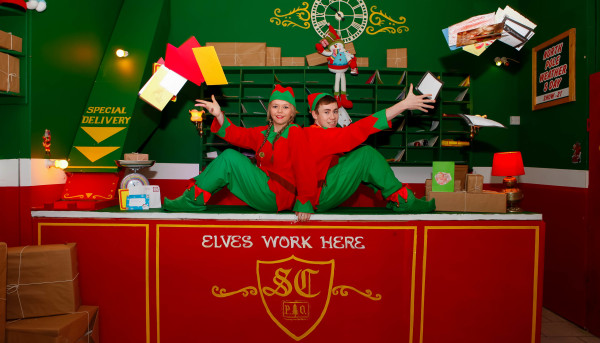 Just what makes it so popular? Well, there are a few things. For starters their online pre-booking means you can choose your preferred time and date which gives great piece of mind.
They have a superior photo offering too with larger and better quality images than any other Santa. They are available in size 8"x10" with a frame immediately after your visit. All photos are taken by a professional photographer to capture that magic moment and they can be viewed in advance of purchase. The photo costs €14 for the first one purchased, and just €6 for each photo thereafter.
The price is exceptional value - it's just €12 per child which includes meeting several elves, travelling through 5 rooms, meeting Santa and receiving a lovely gift.
Santa is also extremely well versed with your child's personal information which enhances your visit and your child's experience.
The attention to detail on the ground is second to none - the staff are friendly and helpful but most of all, they deliver a really magical experience.
The Santa Experience is running now until 23rd December. New for this year, your child can get their very own personal letter from Santa Claus himself straight from the North Pole to your doorstep. There are 3 pre-defined texts where you can add details of your child's best friend, school, pet or teacher to make it very special and personalised.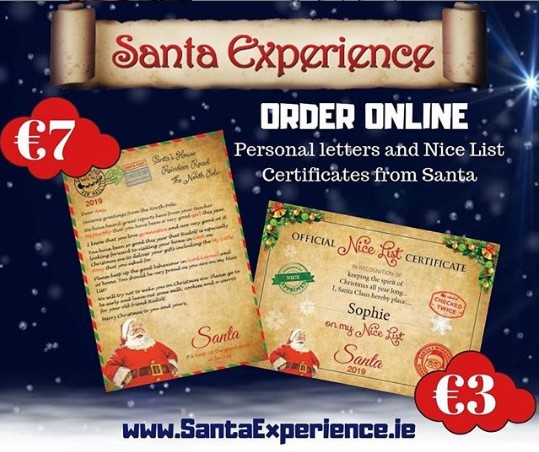 The Santa Experience letter has been exclusively designed for the Santa Experience. When purchasing a personal letter from Santa (€7 each) you also have the option to purchase an official "Santa's Nice List Certificate" for only €3.00. Your child will be in no doubt that they are on Santa's nice list with their name on this beautiful certificate. The double-sided certificates have also been designed exclusively for the Santa Experience and are in keeping with the traditional authentic Christmas style. Santa letters and Certs can be ordered online at Santa's Shop.
Follow the Santa Experience on Facebook or Instagram for news.
We highly recommend this Santa Experience as one that both you and your children will thoroughly enjoy. Book tickets now: www.santaexperience.ie