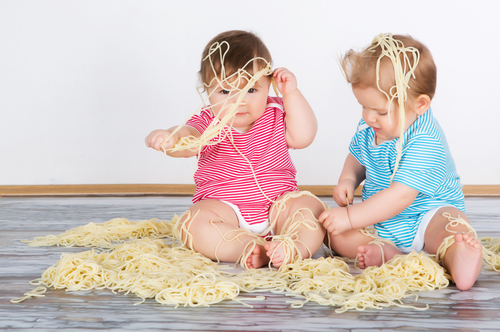 The world is literally your oyster when it comes to choosing a name for your baby. From French to classic, Irish to modern there is so much choice that it can be a little overwhelming when it comes to choosing one for your little one.
And while the choice is completely yours (unless you go for something that is banned...), have you ever considered looking to the beautiful country of Italy as a source of inspiration?
Here are 40 boys' and girls' names that we absolutely love!
Girls:
1. Alessia – meaning defending warrior
2. Aurelia – meaning gold
3. Benedetta – meaning to speak well
4. Camilla – meaning young ceremonial attendant
5. Carmela – meaning garden
6. Donatella – meaning gift of God
7. Elenora – meaning light
8. Fabiana – meaning bean grower
9. Filomena – meaning loved one
10. Gabriela – meaning God is my strength
11. Gina – meaning well born
12. Isabella – meaning consecrated to God
13. Letizia – meaning joyful or happy
14. Lucia – meaning bringer of light
15. Martina – meaning warlike
16. Marea – meaning sea of bitterness
17. Rosa – meaning rose
18. Serafina – meaning firey one
19. Silvana – meaning forest
20. Sofia – meaning wisdom
Boys:
1. Alfonso – meaning noble and eager
2. Alessandro – meaning defender of mankind
3. Carlo – meaning strong
4. Cecilio – meaning dim sighted or blind
5. Donato – meaning gift of God
6. Edmondo – meaning prosperous protector
7. Fabiano – meaning bean grower
8. Filippo – meaning lover of horses
9. Francesco – meaning free
10. Georgio – meaning farmer
11. Gian – meaning God is gracious
12. Ilario – meaning cheerful or merry
13. Luigi – meaning famous warrior
14. Martino – meaning warlike
15. Marino – meaning of the sea or sailor
16. Rico – meaning brave ruler
17. Silvestro – meaning from the woods
18. Tito – meaning of the giants
19. Tomasso – meaning twin
20. Vincenzo – meaning conqueror