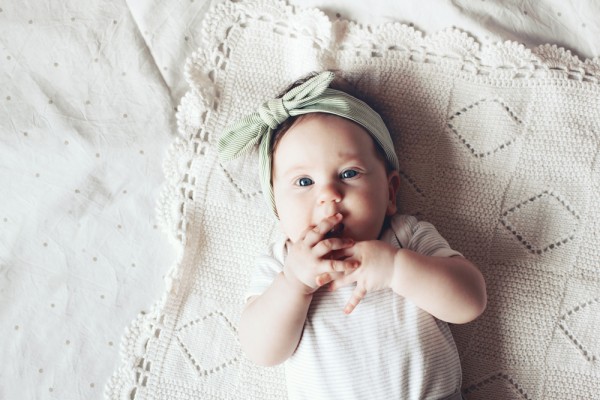 Every baby is unique, and quite a lot of thought goes into choosing just the right name for them. We still like to keep an eye on what's trending, however, for ideas and inspiration!
If you have a little one on the way, or you're puzzled over the perfect moniker for your newborn, then you may want to listen up.
The Central Statistics Office (CSO) has just released its annual compilation of the most popular names – and there are some gorgeous entries to the list.
The CSO's latest figures reflect the biggest names from the past 12 months, including first-time entries and the names that are losing their popularity.
Without further ado, here are the top 5 names for boys and girls born in Ireland right now:
| | |
| --- | --- |
| 1. James | 1. Emily |
| 2. Jack | 2. Grace |
| 3. Daniel | 3. Ava |
| 4. Conor | 4. Lucy |
| 5. Sean | 5. Amelia/Sophie |

As you can see, the more traditional names are still as popular as ever, with James and Emily topping the boys' and girls' charts, respectively.
There is definitely a little bit of celebrity influence in there too, though, with Amelia (Peter Andre and Emily MacDonagh's daughter) and, further down, Cruz (Victoria and David Beckham's son).
We are particularly loving the first-time entries on the girls' list, with names such as Aria and Willow making an appearance. For the boys, the most popular first-time entry was Muhammad.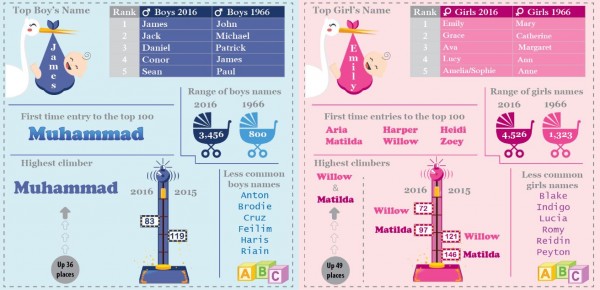 The CSO also included a selection of less common names that entered their list, and some of them are just gorgeous. Brodie and Riain are among our favourites for the boys; while the gender-neutral Blake, and stunning Indigo and Lucia are now officially on our lists!
Well, mums – what do you think? Did your little one's name make the list? Or have you just been inspired by the new stats? Be sure to let us know!