Jessie J has reached out to thank fans for their support after she opened up about her experience when having a C-section.
The Price Tag singer welcomed the birth of her baby boy last month and has spoken out about planning for a 'natural birth' but her son had other ideas.
After sharing a video of herself dancing before going in for her C-section surgery to her 13.1M Instagram followers, Jessie explained, "I spent 9 months prepping for a natural birth. Strict food, the epi no, yoga, swimming, hypnobirthing methods. I had a tens machine, a birthing comb, I wanted a pool birth ideally with no medication".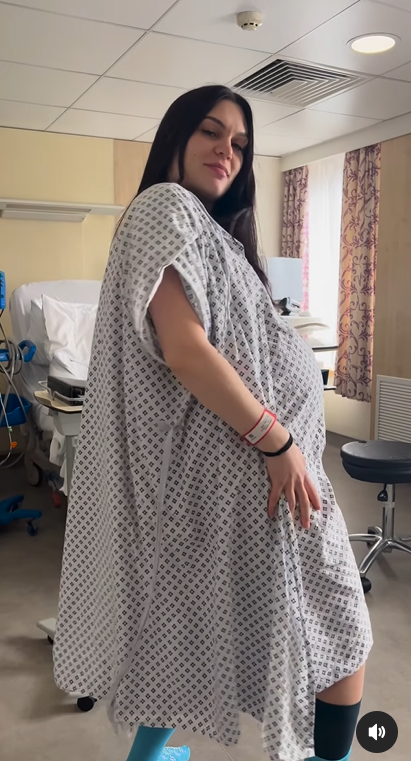 "BUT this was MY plan to stay disciplined and focused. I knew full well it could and would most likely go in a completely different direction".
After revealing she was "open to surrendering to the safest way for my baby boy to arrive", Jessie revealed that when going for a scan before she hit 40 weeks, her son was "completely the wrong way around and stuck as he was a little chunkier than your average and long".
"I did everything to try and turn him for 2 months but he said 'Nah mum I wanna make an entrance out the roof, not the front door'. I was advised to have a planned C section for the safest birth. This video was taken 5 minutes before I went down to surgery. I went into active labour the night before and feeling all the feels but mostly just excitement for us to meet our baby boy".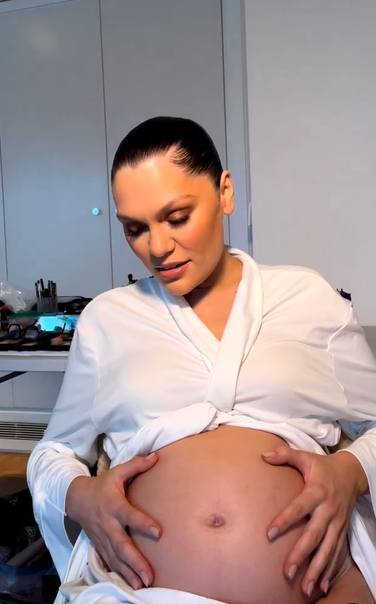 "I guess I'm sharing this because so many people have said 'Do you feel like you missed out on the birth you wanted?'. I had a birth and it was everything I wanted because I got him at the end of it, that's all that matters".
The 35-year-old was flooded with messages of support from fans and famous faces including Loose Women's Stacey Solomon and P.S I Love You's Hilary Swank.
After being overwhelmed with positive messages from her Instagram followers, Jessie took to her Stories earlier today to admit she "didn't realise the impact" her post would have on other mums who were made to feel ashamed or guilty for having a C-section.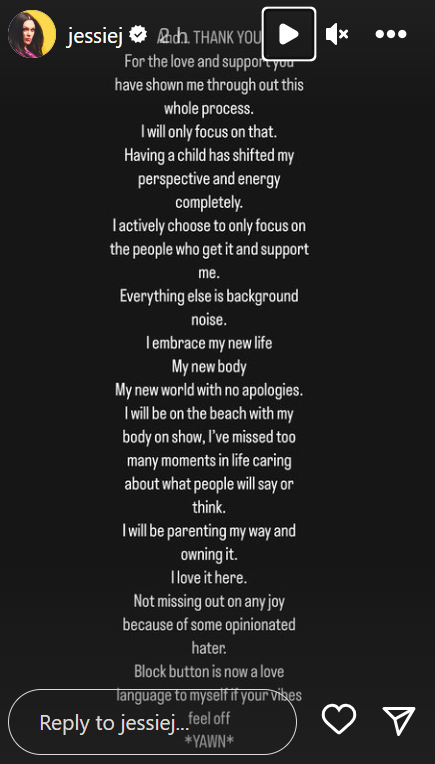 Speaking about C-sections, Jessie admitted, "It is by no means an easy way out. It is a birth. Politely f*** anyone who made you feel anything different. You had a belly birth. Whether it was a choice or not you did or had to do what was right for your baby and for you to be healthy and arrive safely. Nothing else matters. Hugging you all. We did it".
"Thank you for all the love and support you have shown me throughout this whole process. I will only focus on that…I embrace my new life, my new body, my new world with no apologies", the new mum added.
Jessie is yet to share photos of her bundle of joy online and hasn't announced his name to the public yet.